How to Make an Easter Sensory Tub
31 March 2014
5 ways to stop your kids being bored
15 April 2014
The practise of decorating eggshells is quite ancient, with decorated, engraved ostrich eggs found in Africa which are 60,000 years old. Easter eggs, which are also called Paschal eggs, are eggs that are sometimes decorated. These eggs are usually used as gifts at Easter. The oldest known traditions include dyeing and painting chicken eggs. We have found 3 fun and simple activities for you to do with your child. Here are a few egg crafts to enjoy at Easter. They are simple enough to do with even your youngest child. These are really effective and simple activity that will suit all ages.
In this post I discuss the following topics:
Sticky Egg craft
You will need
Self-adhesive (contact plastic) clear plastic
An egg-shaped cardboard cut out
Colourful scraps of paper and sequins.
What to do
Cut out the egg shape and place it onto the contact adhesive.
The egg should be a clear egg-shaped ring with a sticky contact adhesive backing. Ready for children to stick their paper scraps to.
Have an egg-shaped outline ready for each child.
Place a large selection of small papers (torn or cut into various shapes) and interesting bits, like feathers and sequins, on the table.
Allow the children to select what they want to place on their egg.
Have them arrange their selected pieces onto the egg shape. The bits will stick to the sticky plastic.
Once satisfied with the final product, you can place another layer of clear self-adhesive plastic on top to prevent any bits falling off.
Trim the edges to get rid of any excess sticky contact adhesive.
This egg decoration can be used to decorate windows or on other surfaces in your home. If you make it large enough, it can even be used as a beautiful Easter placemat for your Easter table.
* for older children you could give them scissors so that they can cut out shapes they would like to add to their egg shape.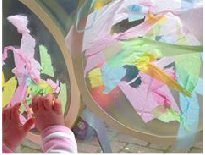 Giant Painted Egg
What you need
Coloured card or paper. Pre-cut some egg shapes out of any sort of card or paper. Make them really big if possible so that little ones can enjoy making marks and painting on it.
Paints. Provide a selection of soft Easter/ spring colours; pink, yellow, pale blue, pale green, lilac ( if you only have bright colours, add a little white paint to them to soften the colours).
Brushes, sponges, toothbrushes, marbles, plastic toy cars (for track prints), cotton buds.
What to do
Allow children to decorate their egg shape with brushes or do finger painting. I like to put out a selection of tools: large and small brushes, toothbrushes for splatter painting, marbles for rolling, toy cars for track making and cotton ear-buds for dipping and making spots.
Once they have covered their eggs, leave them to dry.
Use them decorate your home over Easter or stick onto a larger piece of card as a giant Easter card for someone special.
Dyed Eggs
What you need
For each colour of dye desired:
175 ml (3/4 cup) HOT tap water (not boiling water)

5 ml (1 tsp) vinegar

1 ml (1/4 tsp) food colouring – or more depending on the intensity desired.
What to do
Mix water, vinegar and food colouring. For a brighter colour, add more food colouring.
Completely submerge the eggs until they are tinted the desired colour, from 2 to 5 minutes.
Remove eggs from the dye and allow to dry before adding another colour or continuing to decorate. See our tips for more ideas
Tips for dyeing eggs
You can use "blown eggs" – I.e. remove the egg yolk and white by blowing. (See method below and also decorating ideas).
For much less hassle, use hard-boiled eggs, as these eggs can be eaten quite safely if you do them on the same day that they are to be eaten. Serve as a lunchtime Easter salad on a bed of shredded green lettuce.
You don't have to dye an egg. Remember that food colouring will only give you mainly pastel colours. Use non-toxic paints if you want intense, vibrant colours. You can decorate the shell with other art materials.
You can also dip a brush into the food colouring and paint with it right on the eggshell. Use the colouring straight from the bottle or blend colours together to make other colours.
Paint Humpty Dumpty or bunny faces on the eggs using undiluted food colouring or use coloured cake icing pens.
A slotted spoon or kitchen tongs are a handy tool to use for dipping raw or hard-cooked eggs in water.
An easy way to colour a blown egg is to thread a length of thin wire through the holes at each end of the eggshell.
Bend the wire at one end so the egg won't slip off. This is a handy tool for dipping eggs in the dye and hanging to dry.
A cake rack is also useful for drying eggs.
These egg crafts are perfect for decorating your Easter tree or branch. Make a few of each type and thread them on colourful ribbon to hang on the branches.
I am a preschool and primary school teacher and mum to 3 children. I have been involved in education since 1997 and have trained in a variety of educational specialist areas. It is with this expertise that I write articles to help parents and educators provide quality learning experiences for the children in their care.