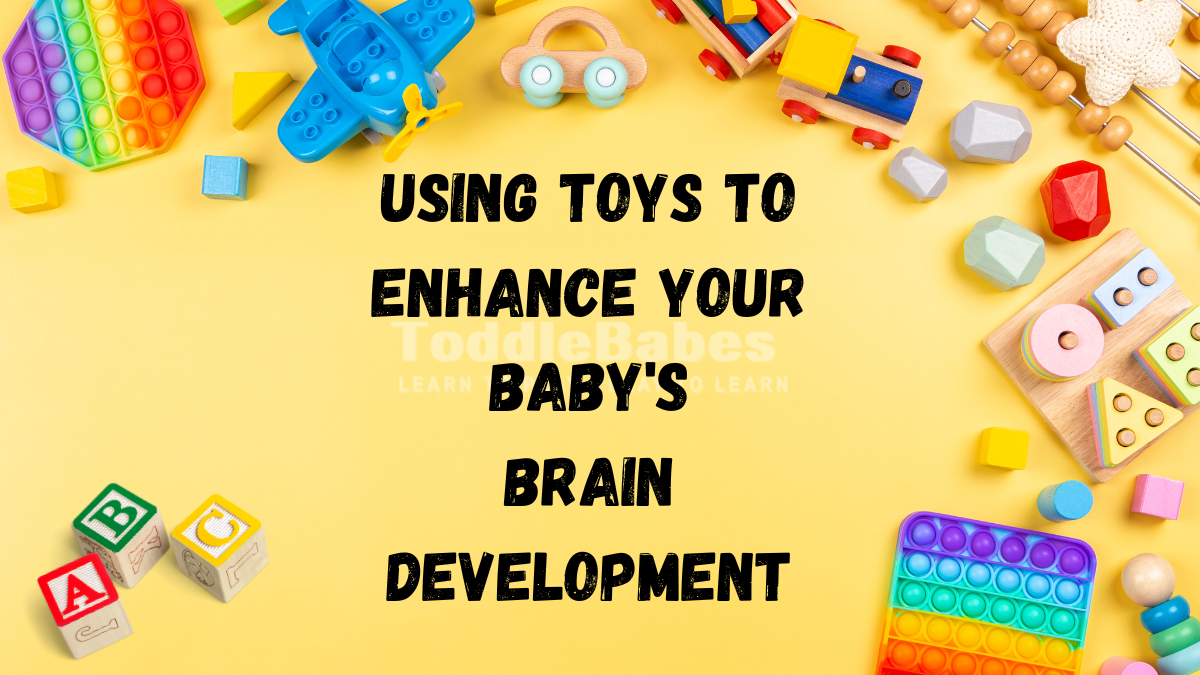 Have you ever pondered the reason behind the abundance of bells, whistles, lights, textures, and colours in baby toys? It seems as though we're eager to provide infants with a world full of stimulation as if we can't deliver it to them quickly enough.
The first 3 years profoundly impact brain development
Current research places significant emphasis on the profound impact that the first three years of life have on a baby's brain development. It is during this remarkable period that the brain undergoes extraordinary growth and establishes an astonishing number of nerve connections. In fact, the brain triples in weight during these critical years, and trillions of nerve connections are formed.
The rapid pace at which these connections are created is truly astonishing. By the age of three, a young child possesses twice as many nerve connections as many adults. This revelation underscores the immense importance of this early developmental stage and highlights the incredible potential for learning and growth that exists within a child's brain during these formative years.
As a parent or primary caregiver, it is essential to fully grasp the significance of this period of intense brain development. By recognizing the magnitude of the changes taking place within your baby's brain from birth until the age of three, you can effectively tailor your interactions and provide the necessary support to optimize their developmental outcomes.
During this critical window, your baby's brain is uniquely receptive and malleable. It is primed to absorb and process an abundance of new information and experiences. Every interaction, every stimulus, and every experience contributes to the formation of neural pathways and the strengthening of existing connections. The more positive and enriching the interactions, the more robust and extensive the neural networks become.
Understanding the profound impact of early brain development empowers you to create an environment that fosters optimal growth and learning. By engaging in stimulating activities, providing a nurturing and responsive caregiving environment, and exposing your baby to a rich array of sensory experiences, you can actively support their brain development.
By fully appreciating the incredible potential for growth and learning during the first three years of life, you can actively shape your baby's environment and experiences to optimize brain development. This knowledge empowers you to make informed decisions, engage in purposeful interactions, and provide the necessary support to unlock the full potential of your child's developing brain.
At birth, children possess most of the neurons (brain cells) they will have for a lifetime. However, these brain cells are not yet connected or wired together to form the complex networks required for mature thought processes. In the early years, young children's brain cells rapidly form these connections, known as synapses.
What is the reason behind the abundance of bells, whistles, lights, textures, and colours in baby toys?
Play gyms, also known as activity gyms, are incredibly popular among babies from newborns to around 12 months old. These play gyms typically come in the form of comfortable, quilted or softly padded playmats, sometimes with raised edges and a space in the middle for the baby, resembling a ring doughnut. They can be brightly coloured or have soft, pastel shades. However, don't be fooled into thinking they are merely cosy resting places for babies to drift off to sleep!
These activity gyms are designed to captivate and engage the rapidly developing and naturally curious minds of babies. They provide a wealth of visual, auditory, and tactile stimulation, creating an enriching environment that sparks exploration and learning.
Activity gyms offer a treasure trove of sensory experiences for young, inquisitive minds. They provide a visually captivating environment, introduce babies to a symphony of sounds, and invite them to explore different textures and materials. By engaging with these stimuli, babies develop essential cognitive, sensory, and motor skills while fostering their curiosity and love for learning. These gyms are not merely play areas; they are invaluable tools for promoting optimal development in the early years of a child's life.
Often adorned with beloved characters like Winnie-the-Pooh, Tigger, Eeyore, or various farm and zoo animals, they feature detachable hanging parts for babies to try to grasp. These parts often have crinkly, soft, and scrunchy textures that babies can touch, squeeze, and stroke. Some play gyms come with bright twinkling lights and bells, others produce funny or musical sounds, and some even combine both features.
Mirrors are frequently attached to these activity gyms, allowing babies to discover and see their reflections, and providing hours of entertainment for babies and caregivers. All of this is tremendously important for the development of young minds. Babies are like sponges, eager to absorb any information they can get their hands on—and boy, they can't soak it up fast enough!
Visual stimulation
Visual stimulation refers to the process of providing visual input or experiences that engage and stimulate the visual system. It involves presenting a variety of visual stimuli, such as colours, patterns, shapes, and movements, to elicit a response from the visual senses.
Visual stimulation plays a crucial role in early childhood development as it promotes the growth and refinement of the visual system, including the eyes and the brain's visual processing centres. It helps infants and young children develop their visual acuity, depth perception, visual tracking, and visual discrimination skills.
There are various ways to provide visual stimulation to children. For infants, colourful mobiles, toys with contrasting patterns, and visually engaging objects can capture their attention and stimulate their developing visual system. As children grow older, activities like exploring books with vibrant illustrations, playing with puzzles or building blocks, and engaging in arts and crafts projects that involve colours and shapes can further enhance their visual perception and cognitive skills.
Visual stimulation is not only limited to physical objects or activities but also includes digital media and technology. Age-appropriate videos, interactive educational apps, and multimedia resources can offer visual stimulation and educational content for children. However, it is important to ensure that screen time is balanced and used in moderation, as excessive exposure to screens may have negative effects on a child's overall development.
By providing visual stimulation, parents, caregivers, and educators can support children's visual development and enhance their ability to perceive and interpret the visual world around them. Visual stimulation not only promotes visual skills but also contributes to cognitive development, creativity, and imagination. It is an integral part of creating an enriched and engaging environment for children to learn and grow.
Visually, these gyms are a feast for the eyes of young infants. They are often adorned with vibrant colours, captivating patterns, and enchanting characters that immediately capture their attention. These visual elements help babies develop their ability to focus and track objects, enhancing their visual perception skills. As they gaze at the colourful toys and decorations suspended above them, their eyesight is stimulated, and they begin to differentiate between various shapes, sizes, and colours.
Auditory Stimulation
Auditory stimulation refers to the process of providing auditory input or experiences that engage and stimulate the auditory system, involving the sense of hearing. It involves exposing individuals to various sounds, tones, rhythms, and patterns to elicit a response and promote auditory development.
Auditory stimulation is vital for infants and young children as it plays a significant role in the development of their auditory skills, including sound discrimination, localisation, and language acquisition. By exposing children to a wide range of auditory stimuli, they can learn to differentiate between different sounds, identify patterns and rhythms, and develop their listening skills.
There are numerous ways to provide auditory stimulation to children. For infants, caregivers can use soft, soothing sounds like lullabies or gentle music to create a calm and comforting environment. As children grow older, engaging in activities like singing, playing musical instruments, or listening to a variety of genres of music can stimulate their auditory senses and foster an appreciation for music.
In addition to music, everyday sounds in the environment can also serve as auditory stimulation. Nature sounds, animal sounds, and environmental noises can capture a child's attention and encourage them to explore the world around them through sound. Storytelling, audiobooks, and interactive sound-based games or toys can further enhance auditory stimulation and language development.
It's important to note that the quality of auditory stimulation is crucial. Providing a rich auditory environment with a variety of sounds and language exposure can help children develop their listening skills, language comprehension, and communication abilities. However, it is equally important to ensure a balanced and safe auditory environment, avoiding excessive exposure to loud or harmful sounds that could potentially damage the child's hearing.
By incorporating auditory stimulation into a child's daily experiences, parents, caregivers, and educators can support the development of their auditory skills, foster language acquisition, and enhance their overall cognitive and social-emotional development. Auditory stimulation contributes to a well-rounded sensory experience, helping children explore and make sense of the auditory world around them.
In terms of auditory stimulation, these activity gyms offer a symphony of sounds and melodies. The hanging toys may produce gentle chimes, musical tunes, or amusing rattling noises that capture babies' interest. By listening to these sounds and recognizing their sources, infants begin to develop their auditory discrimination skills. They learn to identify different tones, pitches, and rhythms, fostering their ability to detect and differentiate sounds in their environment.
Imagine a toddler sitting in a cosy corner of their playroom, surrounded by a variety of musical instruments. They have a colourful xylophone, a small drum, and a set of maracas within reach. As they explore these instruments, they create a symphony of sounds.
With the xylophone, the toddler carefully taps each coloured bar, producing distinct musical notes. They experiment with different sequences, learning that striking the bars in a specific order creates a melody. The auditory stimulation from the xylophone helps the toddler develop an appreciation for rhythm, pitch, and harmonies.
Next, the toddler picks up the drum and starts tapping it with their hands. They notice that the drum produces a deep, resonating sound. They experiment with different beats and patterns, discovering how the intensity and speed of their taps affect the sound. The auditory stimulation from the drum helps them understand concepts like tempo and dynamics.
Finally, the toddler grabs the maracas, shaking them vigorously. The maracas create a lively and rhythmic shaking sound. The toddler experiments with different shaking techniques, discovering that the speed and force of their movements influence the sound produced. The auditory stimulation from the maracas allows them to explore rhythm, coordination, and cause-and-effect relationships.
As the toddler engages in this auditory stimulation activity, their brain is actively processing the sounds, making connections, and forming neural pathways. They are not only experiencing the joy of creating music but also developing their auditory perception, cognitive skills, and sensory integration.
By providing opportunities for auditory stimulation through musical instruments, singing, or listening to various sounds, we can support toddlers' cognitive development. These experiences help them refine their listening skills, enhance their ability to recognize patterns and sequences and strengthen their auditory memory.
Tactile Stimulation
Tactile stimulation refers to the process of providing sensory input through touch and physical contact. It involves engaging the sense of touch to stimulate the skin and activate the sensory receptors, leading to various sensory experiences and promoting tactile development.
Tactile stimulation is crucial for individuals of all ages, especially infants and young children, as it plays a significant role in their overall sensory and cognitive development. Through touch, children explore and interact with their environment, develop body awareness, and establish a foundation for sensory integration.
There are numerous ways to provide tactile stimulation to children. For infants, gentle stroking, cuddling, and skin-to-skin contact with caregivers create a sense of comfort, security, and bonding. As children grow older, providing them with opportunities to explore different textures, surfaces, and objects with their hands and body encourages tactile exploration and sensory discrimination.
Tactile stimulation can be incorporated into play activities by offering toys with various textures, such as soft, fuzzy, rough, or smooth surfaces. Sensory materials like sand, water, playdough, or sensory bins filled with materials like rice, beans, or textured fabrics can also provide rich tactile experiences. Engaging in activities that involve finger painting, moulding clay, or playing with different textures can further stimulate the sense of touch.
Exploring nature, engaging in outdoor play, and encouraging physical activities like crawling, climbing, or playing in sensory-rich environments like playgrounds or sensory gardens can also offer tactile stimulation through contact with natural surfaces, grass, sand, or tree bark.
Picture a curious toddler sitting at a table, surrounded by a variety of textured materials and objects. There's a soft, plush teddy bear, a bumpy sensory ball, a smooth wooden block, and a squishy play dough. With their tiny hands exploring the possibilities, the toddler engages in a world of tactile exploration.
As they reach out for the plush teddy bear, they run their fingers through its fuzzy fur, experiencing its softness and warmth. They squeeze the bumpy sensory ball, feeling the gentle pressure on their palms and the unique texture beneath their fingertips. Next, they pick up the smooth wooden block, tracing their fingers along its polished surface, and appreciating its sleekness. Finally, they take a handful of squishy play dough, enjoying the sensation of its malleability as they mould it between their fingers.
Through these tactile experiences, the toddler not only engages their sense of touch but also enhances their fine motor skills, hand-eye coordination, and sensory awareness. Tactile stimulation offers them a rich and diverse sensory input, fostering their curiosity, creativity, and overall sensory development.
It is important to create a safe and supportive environment for tactile stimulation, ensuring that the materials and objects used are age-appropriate and free from potential hazards. Additionally, being responsive to a child's individual preferences and comfort levels regarding touch is essential, as some children may be more sensitive to certain textures or touch sensations.
By incorporating tactile stimulation into a child's daily experiences, parents, caregivers, and educators can support their sensory development, enhance their body awareness and coordination, and promote sensory integration. Tactile stimulation contributes to a well-rounded sensory experience, helping children understand and engage with the world through the sense of touch.
Tactile stimulation is another essential aspect of these activity gyms. The hanging toys and attached accessories are designed with a variety of textures and materials. Babies can reach out and touch the soft, plush toys, crinkle the fabric, or explore different tactile surfaces. This tactile exploration helps develop their sense of touch, fine motor skills, and hand-eye coordination. As they grasp, squeeze, and stroke the toys, they engage their senses and discover the diverse sensations that the world offers.
Cognitive Development
Cognitive development through cause-and-effect interactions refers to the cognitive processes and skills that children acquire by understanding the relationship between actions and their consequences. It involves recognizing that certain actions or events lead to specific outcomes and being able to make predictions, draw conclusions, and solve problems based on this understanding.
Cause-and-effect interactions play a crucial role in cognitive development as they help children develop important cognitive skills such as critical thinking, logical reasoning, and problem-solving abilities. Through cause-and-effect relationships, children learn to understand the world around them, make sense of their experiences, and actively engage with their environment.
During infancy, babies begin to explore cause-and-effect interactions through simple actions and observations. For example, they may realize that shaking a rattle produces a sound or that dropping a toy leads to it falling to the ground. As they grow, children further refine their understanding of cause and effect by experimenting with different actions and observing the outcomes.
As children continue to develop, they start to recognize more complex cause-and-effect relationships. They learn that certain actions can have multiple outcomes or that a single outcome can be influenced by several factors. This understanding enables them to anticipate consequences, make predictions, and adjust their behaviour accordingly.
Cause-and-effect interactions also support cognitive skills such as problem-solving and decision-making. By understanding the cause-and-effect relationships, children can identify the root causes of problems, consider alternative actions, and evaluate potential outcomes. They can apply this knowledge to solve puzzles, navigate challenges, and make informed decisions.
Cause-and-effect interactions contribute to the development of critical thinking skills. Children learn to analyze situations, identify patterns, and draw logical conclusions based on their understanding of cause and effect. This ability to think critically enhances their ability to reason, evaluate information, and solve problems independently.
To promote cognitive development through cause-and-effect interactions, it is important to provide children with opportunities for hands-on exploration and discovery. Offering toys, games, and activities that involve cause and effect, such as building blocks, puzzles, or science experiments, allows children to engage in meaningful experiences and learn through trial and error.
Encouraging open-ended questioning, providing explanations for cause-and-effect relationships, and engaging in discussions that encourage children to reflect on the consequences of their actions can further support their cognitive development. Additionally, creating a safe and supportive environment where children are encouraged to take risks, make choices, and learn from their experiences fosters their cognitive growth through cause-and-effect interactions.
Imagine a young child playing with a set of building blocks. As they stack one block on top of another, they begin to notice a cause-and-effect relationship. When they carefully balance the blocks, they can create a stable tower. However, if they stack the blocks haphazardly, the tower may tumble down.
Through this cause-and-effect interaction, the child engages in cognitive processes such as problem-solving, spatial reasoning, and logical thinking. They learn that their actions (cause) directly impact the outcome (effect) of their tower-building endeavour. With each attempt, they observe how the stability of the tower depends on their choices and adjustments.
As the child continues to experiment, they may explore different strategies and approaches. They might discover that placing larger blocks at the bottom provides a more solid foundation, or that interlocking the blocks creates additional stability. Through trial and error, the child develops an understanding of cause-and-effect relationships and gains insights into the principles of balance and structure.
This cause-and-effect interaction in building with blocks not only stimulates the child's cognitive development but also fosters their problem-solving skills, spatial awareness, and critical thinking abilities. It allows them to explore and manipulate their environment, make predictions, and learn from their observations, all while engaging in a fun and hands-on activity.
Overall, cognitive development through cause-and-effect interactions empowers children to understand the world, develop problem-solving skills, and think critically. By nurturing their ability to recognize and comprehend cause-and-effect relationships, we support their cognitive growth and equip them with essential skills for lifelong learning and understanding.
Activity gyms promote cognitive development through cause-and-effect interactions. When babies reach out or kick their legs, they may activate the hanging toys, triggering a response such as lights flashing or sounds playing. Through these interactive experiences, infants begin to understand the concept of cause and effect, learning that their actions can produce specific outcomes. This knowledge lays the foundation for problem-solving and critical-thinking skills as they grow.
Social Interaction and Bonding
Beyond the immediate sensory benefits, activity gyms also encourage social interaction and bonding. Caregivers can join babies on the mat, playing alongside them and creating a shared experience. This interaction fosters a sense of connection and emotional attachment, promoting healthy social development from the early stages of life.
Imagine a group of young children engaged in a pretend tea party. Each child takes on a role, whether it's the host, a guest, or a waiter/waitress. They gather around a small table, arranging toy teacups, plates, and utensils. As they pour imaginary tea, pass around "delicious" treats, and engage in conversation, they participate in social interaction and bonding.
During the tea party, the children take turns speaking, listening, and responding to one another. They practice important social skills such as sharing, taking on different roles, and cooperating. Through their interactions, they learn to navigate social cues, express their thoughts and feelings, and respect one another's ideas.
As the play continues, the children may encounter conflicts or disagreements. For example, one child might want to be the host for a longer duration, while another child desires a particular teacup. These moments provide opportunities for negotiation, compromise, and problem-solving. They learn to communicate their needs, express their perspectives, and find resolutions together.
Through this social interaction and bonding, the children develop a sense of camaraderie and connection. They form relationships based on mutual understanding, cooperation, and shared experiences. They learn to empathize with one another, support each other's imaginative play, and celebrate their individual contributions.
Engaging in play that encourages social interaction and bonding helps children develop crucial social skills, emotional intelligence, and the ability to build and maintain relationships. It fosters a sense of belonging, cooperation, and empathy, laying the foundation for healthy social development throughout their lives.
Additionally, providing a secure and loving environment promotes the healthy development of emotional and social skills. Creating strong and nurturing bonds with your baby fosters a sense of trust and security, which is vital for their overall well-being and cognitive development. Responding to their needs and emotions, offering comfort and reassurance, and engaging in positive interactions lay the foundation for healthy social and emotional development.
Language and cognitive skills
Interacting with your baby through play, talking, singing, and reading not only enhances their language and cognitive skills but also strengthens the neural connections associated with these areas. Engaging in sensory play, offering age-appropriate toys and stimuli, and encouraging exploration all contribute to the development of different neural pathways and the refinement of sensory processing abilities.
Here's an example that showcases the benefits of interacting with your baby through play, talking, singing, and reading:
Imagine you are sitting on the floor with your baby, surrounded by a variety of age-appropriate toys and stimulating objects. You engage in interactive play by gently rolling a colourful ball towards your baby and encouraging them to reach out and touch it. As they explore the ball's texture, shape, and movement, you describe what they are doing, saying, "Look at the shiny ball! It's rolling towards you. Can you feel its smooth surface?"
While playing, you also sing nursery rhymes or lullabies to your baby. The rhythmic melodies and repetitive lyrics capture their attention, and they start to recognize familiar sounds and patterns. Your voice becomes a source of comfort and joy, and they begin to associate the songs with feelings of warmth and security.
In addition, to play and singing, you incorporate reading into your interactions. You choose a colourful board book with simple pictures and point to each image as you describe it. You use exaggerated facial expressions and emphasize keywords, helping your baby make connections between the words and the corresponding images. As you read aloud, your baby's focus shifts between the pictures, your face, and the sound of your voice.
Through these interactive experiences, you are not only engaging your baby's senses but also fostering their language and cognitive development. Talking, singing, and reading provide exposure to a rich vocabulary, sentence structures, and storytelling patterns. As you respond to their babbling and coos, you encourage them to make vocalizations and eventually form their first words.
Engaging in sensory play and offering age-appropriate toys stimulates various neural pathways in your baby's brain. The different textures, colours, and sounds of the toys provide sensory input that helps refine their sensory processing abilities. They learn to distinguish between various sensations, develop hand-eye coordination, and explore cause-and-effect relationships.
By consistently interacting with your baby through play, talking, singing, and reading, you are not only nurturing their language and cognitive skills but also strengthening the neural connections associated with these areas. These experiences lay the foundation for their future learning and development, setting them on a path of exploration, curiosity, and language acquisition.
The Power of Experience and Repetition
Experience and repetition play a vital role in facilitating the formation of these connections. In other words, the more times you repeat something new, such as demonstrating how to scrunch up a ball to a baby, the faster these connections are established. Therefore, it logically follows that the more positive interaction you provide an infant or toddler, the more you contribute to stimulating their young brain. This stimulation leads to the formation of new connections and the strengthening of existing neural pathways.
Engaging in play with activity gyms, with all their captivating features and interactive elements, or participating in activities such as reading to your child, holds immense significance in fostering their brain development.
Activity gyms offer a stimulating environment filled with various sensory experiences. The colourful toys, intriguing textures, and delightful sounds engage your baby's senses and encourage exploration. As they reach out to grasp the detachable parts, touch the crinkly or soft textures, and listen to the twinkling lights or musical sounds, their brain is actively processing and making connections.
Similarly, activities like reading expose your child to language, narrative, and different concepts. As you read aloud, your child's brain absorbs the words, the rhythm of the language, and the richness of the storytelling. This exposure enhances their language development, cognitive abilities, and imagination.
By providing positive and interactive experiences, you are offering your child valuable opportunities for brain growth. Every interaction, whether it's playing with activity gyms or reading together, stimulates neural pathways and strengthens connections in their developing brain. These experiences create a foundation for future learning and understanding.
As you lovingly observe your young baby happily engaged on the play mat or beneath the activity gym, it is crucial to appreciate the profound impact these moments have on their brain. The changes occurring in their brain as they laugh, gurgle, and explore their surroundings are far from trivial. They are building blocks for their cognitive development, shaping their perception of the world, and nurturing their curiosity.
Never underestimate the power of these changes. The connections forming in their brain during these early years lay the groundwork for future intellectual growth and understanding. By providing a stimulating and nurturing environment, you are helping to enrich their inquisitive mind, equipping them with a vast repertoire of knowledge and understanding that will continue to unfold and shape their journey for years to come.
Disclaimer: This blog post contains affiliate links. This means that if you make a purchase through these links, I may earn a commission at no additional cost to you. I only recommend products or services that I genuinely believe in and have personally used or researched.
Please note that the decision to purchase any product or service mentioned in this blog post is entirely up to you. I encourage you to do your own research and consider your own needs and preferences before making a purchase. The affiliate links provided are simply a way for me to support the ongoing maintenance and operation of this blog.
I greatly appreciate your support, as it allows me to continue providing valuable content and recommendations. If you have any questions or concerns regarding the affiliate links in this post, please feel free to reach out to me. Thank you for being a valued reader of this blog.
I am a preschool and primary school teacher and mum to 3 children. I have been involved in education since 1997 and have trained in a variety of educational specialist areas. It is with this expertise that I write articles to help parents and educators provide quality learning experiences for the children in their care.