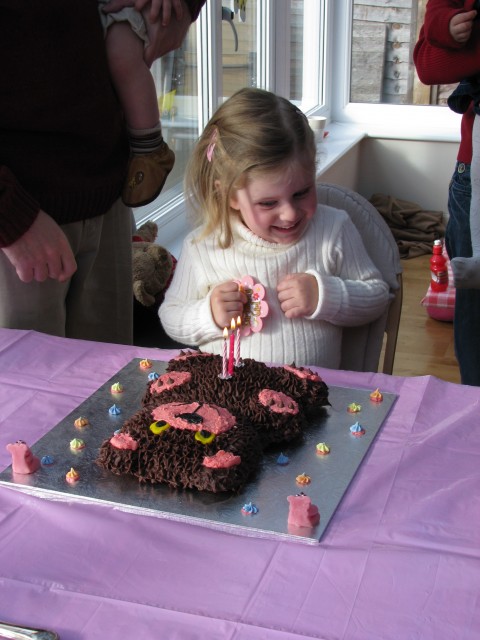 We all want to spoil and treat our children on their birthdays but sometimes it's not always possible. If money is tight and your child's birthday is on the way, don't panic. There are plenty of ways you can throw your little one a fantastic party on a budget. Remember, cutting down on birthday party spending, does not have to mean cutting down on the fun for the big day.
Thrifty Tips for keeping to your party budget
To guide you through throwing a budget birthday party, here are some clever low-cost birthday tips and ideas.
Keep it simple
While many children have lavish birthday parties, there is nothing wrong with keeping your party simple. Your child will be so excited at the prospect of blowing out the candles, that they won't notice (or truly care) if they have a Frozen-themed birthday cake or a simple jam sponge. As long as your party has games, dancing and fun activities to do, there is no doubt that your child will have a fantastic time. I find that making a list of activities and games helps you stick to your timings and keeps the party moving. No time for lulls and boredom. I like to schedule a new games or activity every 15-20 minutes.
Hold the party at home
You will find that hiring out a venue is the most expensive part of throwing a birthday party. So instead, to achieve the perfect budget birthday party, opt to host the party at home. A home party is also more personal, and if you like making special touches along a theme, then not having to decorate a venue elsewhere saves time. I decorate my home the day before and then only have to worry about the actual event on the day.
If the idea of filling your home with hyper eight-year-olds is too much to cope with, consider hiring out a low-cost venue like a community centre. These kinds of places tend to be reasonable to hire and a lot cheaper than fancy party venues.
Keep the guest list short
The easiest way to keep the cost of your child's budget birthday party down is to keep the guest list as small as possible. Don't worry about inviting the whole class, instead get your child to pick a few of their closest friends to come along. I find the less children invited, the more I can spoil them a little more anyway with the types of activities and the contents of their party bags!
Don't buy invitations, make them yourself
Birthday party invitations can be expensive, so instead of buying them, make them yourself. There are plenty of online tutorials explaining how to make fantastic DIY party invitations for a low cost. So, make sure to have a look online to get some ideas.
I like to make my invitations on my computer and then print them out for classmates and email or post them to those who are not local to us. There are also many free invitations for download, you just need to take the time to search!
All you will need to make DIY party invitations is coloured card, some fun bits and bobs, like stickers and sequins, and glue sticks or glue guns. Make sure to include your little one in the invitation making.
Don't hire an entertainer
If you're trying to stick to a tight budget, don't pay out for an entertainer, instead, come up with your own ideas to keep the party guests entertained.
Traditional party games like pass the parcel, pin-the-tale of the donkey and musical chairs are all ideal.
Make the party meal yourself
Don't buy the food for the party meal, instead make it yourself.
Make a selection of sandwiches – jam, cheese and ham seem to work well. As well as a couple of homemade pizzas, simple hot dogs, chicken nuggets or fish fingers and some homemade cheese straws. For the sweets, serve ice cream and jelly, as well as homemade cupcakes, cookies and brownies.
Chopped vegetables like cucumber, carrots and tomatoes are usually a favourite as are bowls of grapes and berries.
Personally I am a fan of a home party where I do all of the above. I have three children and they all have their birthdays in the first half of the year (as do I and my husband) After just coming out of the expense of Christmas straight in birthdays, it can be a tricky one to handle financially.
Remember, homemade takes longer, but is far cheaper and in my opinion, makes the party more special. Just because it is a budget birthday party, it can be every bit as wonderful as a lavish, expensive one. And trust me, your child (well maybe not when he is a teen) does not judge the success of his party on how much you spent!
Now that you have your budget under control, how about finding that perfect party idea?
Kids Party Ideas
Every parent wants to throw their child a fun and memorable party for their birthday, especially if that birthday is a particularly significant one. However, with all the other commitments in life it can be difficult to dedicate lots of time and effort to the planning and organisation. Even before you have considered the food, games, decorations, etc., you have to come up with a good party idea, which can often be the hardest hurdle! So, to save myself and other busy parents some valuable time and stress, I have created this list of children's party ideas that will help to get the organisation ball rolling.
A themed party
Choosing a themed birthday party is a great and easy idea. If you pick a theme together with the birthday boy or girl, some interest or hobby that they love, you'll know that they're going to enjoy the celebration. It's also an easy idea because it gives you a focus on the kind of food, games and decorations for the party. The less choice you have; the easier and quicker the planning will be. If you want to some more inspiration, take a look at my recent post on my son's Superhero themed party.
A sports day party
A sports day party is really fun for the kids and is pretty easy for us parents to organise. You'll need to think about a suitable location. If you don't think your garden is big enough, think about your local park or playground. Typical sports day games like the egg and spoon race and the sack race are minimal effort to organise but provide huge amounts of laughter and excitement for the little ones. In terms of food at this kind of party, you may wish to do a barbeque or a picnic.
An adventure day out
For a small group of children, a day out to somewhere exciting could be the perfect birthday party. You may wish to organise a local trip to the zoo, to a museum or the cinema. If you are up for going further afield, you may want to consider one of the UK's many amusement parks. A day at Nickelodeon Land in Blackpool, for example, will certainly have them jumping for joy. If you have a larger group to entertain, perhaps you could ask some of the other parents to come along too.
A messy play party
It doesn't sound very appealing, but hear me out. As we all know, kids just love to get their hands dirty. So a party that encourages the children to be creative and messy with drawing, painting, making things or decorating cakes may turn out to be the coolest party ever. Just set all the materials out in an area, inside or out, that is well protected from spills and stains and let the kids have fun. Lay down plastic or paper sheets over everything. At the end of the party, these can be easily bundled up and disposed of.
I hope you have gathered some inspiration from this post. If you have any more fantastic kids' party ideas, please let me know.
Click here for more AWESOME kids party Ideas
I am a preschool and primary school teacher and mum to 3 children. I have been involved in education since 1997 and have trained in a variety of educational specialist areas. It is with this expertise that I write articles to help parents and educators provide quality learning experiences for the children in their care.