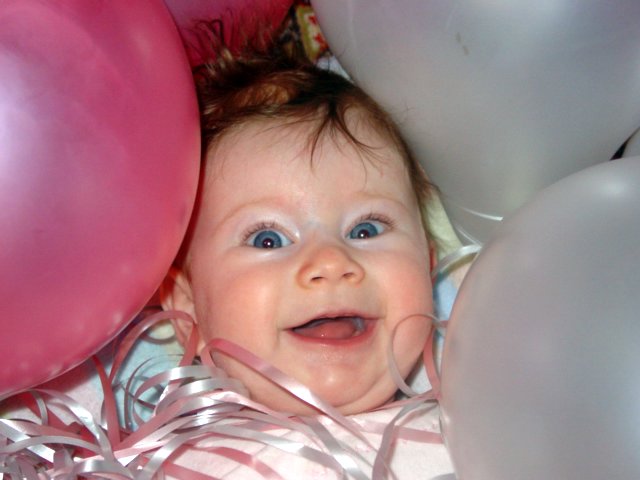 Ideas for using Balloons… (other than simply blowing them up). Balloons are not only delightful decorations for parties and events but also versatile objects that offer various uses and opportunities for creativity. Here are some common uses of balloons.
To decorate for a minion party, float yellow, latex, helium-filled balloons around your house. Using a permanent-ink marker, draw black goggles and blue overalls on each one, again resembling the minions.
Draw a Minion face on a balloon using a marker pen. Children can take these home afterwards.
Play the name game.  Stand in a circle.  Throw a balloon in the air and call someone's name.  That person must catch the balloon before it touches the ground.  If the person manages he/she then tosses the balloon up and calls the next name.
Divide into teams.  Each team stands in a small circle.  See which team can keep a balloon aloft the longest using only breath.
Try balancing a balloon on the end of your finger.  Have a competition to see who can do it for the longest.  The balloon must not be held, only balanced, and it must not be tapped.  The finger must be in direct contact with the balloon at all times.  Good for focus, concentration and physical movement.
Balloon artists make items out of balloons. Either learn to make the animals and other objects yourself or hire a balloon artist.

Play Balloon tennis using paper plates as bats and a balloon as the ball.
Use them as mini cake decorations. Blow up water balloons (they are the smallest) with air and attach them to your child's cake.
10. Fill balloons with coloured water, let them freeze, cut away balloons and you have coloured ice balls make frozen water balloons for ice buckets
Crafts and Art Projects: Balloons can be transformed into various crafts and art pieces. Balloon paper-mâché sculptures, balloon wreaths, and balloon piñatas are just a few examples of creative projects that can be made using balloons as the foundation. Use them as the base for paper- machè masks, hot air balloons, and piggy banks…
Fill them with rice, beans, sand or flour to be added to the sensory bin.
Hide small treasures inside, kids pop each balloon as they find it to release the treasure.
Fill the area with balloons, in teams kids race and sit on one, when it pops they run back and the next player goes…team that pops the most in the allocated time wins.
Use small water balloons filled with air or water as stamps by dipping them in paint and splodging them onto paper.
Freeze small toys -like dinosaurs-in water balloons. Cut away the balloons and allow your mini archaeologists to chip away the ice, or drop them in the bath and watch them melt.
Put glow sticks in your balloons for nighttime fun. Hang them in trees as decorations or float them in ponds or swimming pools. Or even just let your children play with them.
Place a note in each balloon and during the party, each player gets to pop one…they get or do whatever the note says.
Make a wall of balloons, and throw darts at them to pop them.
Play balloon tennis using balloons and pool noodles as the racquets.
Use balloons that are not blown up..(a good thing for those that are faulty and can't be blown up) to create a balloon wreath. Tie or stick them to a circular frame. This makes a cute party wreath for your front door.
Make mini drums with cans and small balloons. Use a clean empty can and pull the balloon over the opening. When the balloon is fully stretched over the opening, it will make a simple drum.
Make a balloon arch as an entrance or behind the party table. Attach blown-up balloons to match your colour scheme and attach them to the arch frame.
Blow up a few balloons and use them instead of balls for an indoor game of football/soccer.
Advent or Ramadan countdown. Blow up the required number of days. Pop one each day until the countdown is over.
Fill the floor of a birthday boy/girl so when they wake they get a fun birthday surprise.
Decorations: Balloons are widely used to add colour and festive charm to parties, celebrations, and special occasions. They can be arranged in vibrant bouquets, arches, or balloon walls to create a lively and cheerful atmosphere.
Party Games: Balloons are excellent for engaging and entertaining guests at parties. From balloon popping contests and balloon races to balloon volleyball and balloon stomp, there are numerous games that can be played using balloons to promote fun and friendly competition.
Gift Wrapping: Balloons can be a unique and creative alternative to traditional gift wrapping. Placing a small gift or surprise inside a balloon, and then inflating and decorating it, adds an element of excitement and surprise when the recipient pops the balloon to reveal the hidden treasure.
Science Experiments: Balloons serve as fantastic tools for conducting simple science experiments. Whether it's exploring static electricity by rubbing balloons on hair or experimenting with gas expansion by inflating balloons using baking soda and vinegar, they can make learning about scientific concepts interactive and engaging.
Educational Tools: Balloons can be valuable aids in teaching concepts such as air pressure, gravity, and buoyancy. By experimenting with different sizes, shapes, and materials, children can explore scientific principles in a hands-on and interactive manner.
Photography Props: Balloons can add a whimsical and playful touch to photoshoots. Whether it's using balloons as props for family portraits, engagement shoots, or themed photo sessions, they can contribute to creating visually captivating images.
Outdoor Activities: Balloons can be utilized for outdoor activities and games. Water balloon fights, balloon darts, or balloon races in the garden can provide hours of entertainment and laughter during the warm summer months.
 I hope this post has given you some ideas for your next event. Balloons are great, versatile additions to festivities and are cheap too! Happy celebrating 🙂
I know we said 25 ideas, but here's a bonus activity to try just for fun! 
Stress Ball Balloons
These stress balls are so cute and easy to make, I just had to get the children to make them.  We were learning about emotions and these seemed to be perfect to get the children talking about their feelings.   These stress balloons are simply party balloons filled with play dough, with faces depicting various emotions drawn on with permanent markers.  Squeezing the stress balloons is a fantastic way for little ones to strengthen their finger muscles and the children really loved how squishy they felt. It's also a whole lot cleaner than actual playdough!
We decided that non-cook playdough made a more successful dough for these stress balloons than the softer cooked dough recipe. Non-cook playdough tends to be a bit stiffer which means the stress balloons could be manipulated into different shapes and could hold that shape longer. it was fun squeezing them into sausages and trying to make them into hills by flattening the bottom.
The uses of balloons are limited only by one's imagination. Whether it's for decoration, entertainment, education, or creative expression, balloons bring joy, colour, and versatility to a wide range of activities and experiences.
I am a preschool and primary school teacher and mum to 3 children. I have been involved in education since 1997 and have trained in a variety of educational specialist areas. It is with this expertise that I write articles to help parents and educators provide quality learning experiences for the children in their care.