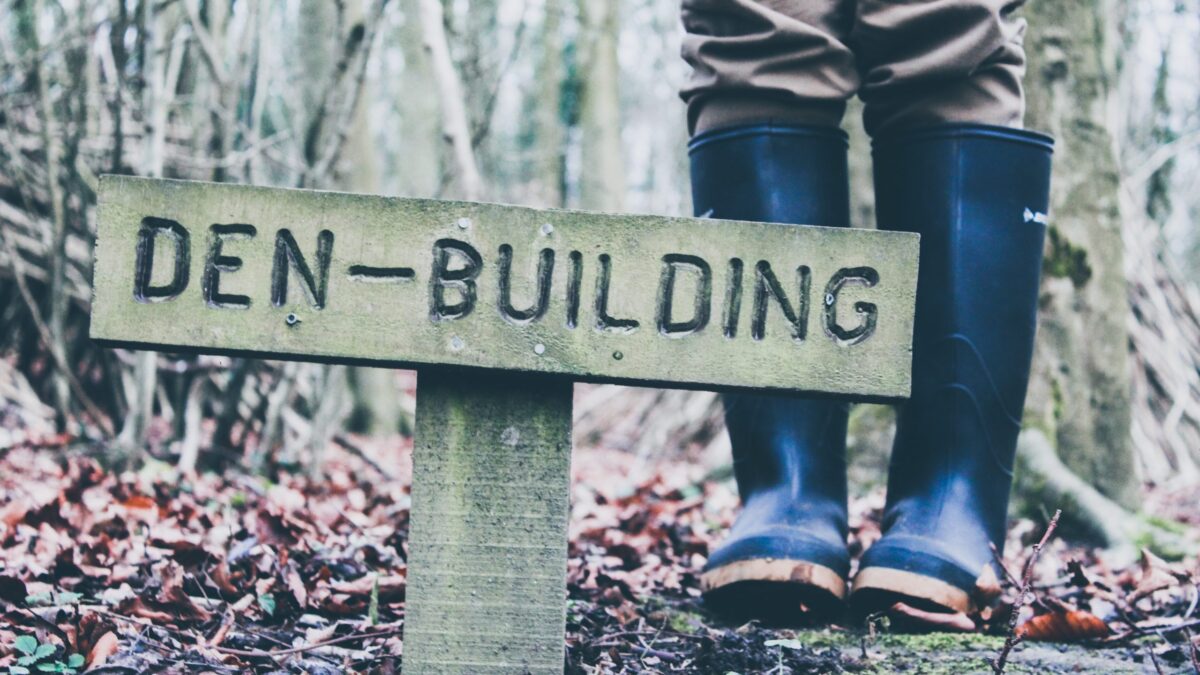 Spending time outdoors with your child is beneficial to both you and them.  If you have a garden with trees or a nearby woodland, then I recommend building a den. Dens make perfect birdwatching hides for those who are keen on spotting our feathered friends. They provide shelters and basecamps for woodland walks or picnics in the woods. Building Dens offers a range of advantages to children of all ages.
Physical development, problem-solving skills, teamwork, and stimulating the imagination to name a few. Children will build on their learning by thinking creatively and then taking their ideas and figuring how to make them a reality.  It can also be great fun for the whole family and it's a wonderful way to spend healthy time in the fresh air together.  So it's time to head outdoors and try out our top tips.
Outdoor Dens
You will need: 
long, straight branches, sticks, or logs 
lots of thin, bendy sticks in different lengths and thicknesses
materials to cover your dens, such as dried leaves, twigs, and grass 
anything else you find lying in the environment
Teepee-style den 
Search out and find a tree with a fork in the branches. The lower the better. 
Create a frame by leaning and propping some long, straight sticks in the fork and fanning them out in a  semi-circle shape. 
Make sure that the branches are really secure in the fork. You don't want them slipping causing the den to come crashing down.
Carefully weave softer bendy sticks in and out of the thicker upright sticks to make the walls.
If you like, leave a gap at head height to create a window. 
Finally, cover your den with any natural materials so that it's camouflaged and as weatherproof as you can make it.  If it is a wet day or you are out after a rain, you could use mud to stick them on.
Gather up fallen leaves and scatter them on the floor to make your den extra cozy. 
TOP TIP Try to use a sturdy tree with lots of nooks and nobbles, or a low branch. This type of tree will help keep your sticks in place when you start building. Spend some time searching for some strong branches on the ground that you can use to make a good starting framework for your den. If you ensure that they're wedged securely into your tree,  they won't move easily. The next step is to start filling in your walls by placing more smaller, thinner sticks close together against your tree and main long and thicker branches. 
Tent-shaped den 
If you're lucky enough to find two forked trees that are close together, place a long stick between them. 
Lean or prop a row of tall sticks against the linking stick on each side, so you end up with a triangular tent shape. 
Using smaller softer bendy sticks, weave your sticks in and out of the upright sticks and add your covering plant materials. 
TOP TIP Flat ground is easier to build on, try to avoid large tree roots under your chosen tree. You'll also be able to roll some log furniture inside then too
A Mini Den 
These all sound really fun for older children, but what about younger ones? Perhaps you're worried that your children are too small to build a den? Here's a tip for building a simple smaller den with toddlers or small children. It is a lovely way for even very small children to have a go at building.
Collect an armful of medium length sticks and lean or prop them up against a tree trunk or fallen branch to make a mini den. The length of the sticks will determine the height of the space created so be sure they are long enough for your child to still be able to get underneath.
Make the inside of your shelter nice and cozy with some fallen leaves or a picnic blanket. 
take some favourite toys or props for them to take into the den and let their imaginations run wild.
 TOP TIP If you lean sticks against a tree like a lean-to,  you don't have to do as much building and it's really quick to construct. This can be a bonus for impatient little ones. . 
Indoor Dens
If you're not keen to brave the garden or woods or the weather is not conducive to outdoor adventure, you could have a go at building an indoor den.
You will need: 
 Get two to four sturdy dining or kitchen chairs (must have a backrest for draping fabric over) 
Borrow a large sheet and some blankets from your bed or linen closet.
Collect some soft comfy furnishings, such as cushions, pillows, sleeping bags, or a duvet
a few heavy books (or something else suitable for weighting down the fabric once it is draped) 
a few clothes pegs or clips for holding the fabric together 
battery-operated string lights or torches if you want to light up the inside.
 Two Chair Den 
Choose where you want to build your den. It could be up against a clear wall or perhaps against the back of the sofa. 
Place two chairs on each side with the backs facing inwards – these will form the side walls. Hang blankets over the chair backs. 
Drape a sheet or blanket over the top to make the roof and put some books on the chair seats to hold it in place. You can use pegs to help secure them further.
Throw a blanket or soft duvet on the floor and scatter cushions or pillows around the sides.
You can decorate with string lights, using some of the pegs to attach them. 
Your child will love spending time in your indoor den and it is the perfect place to share stories together– read by torchlight makes it even better-, or pretend you are a bear in a cave, camping at the beach, or just have a sleepover in it. 
Four Chair Den
The advantage of this type of den is that you don't need to have it against a wall or sofa. You could build it in the middle of the room or even outdoors on a clear day.
Place four chairs on (two on each side to create a square shape) with the backs facing inwards – these will form the structure for the blanket to drape over.
Hang blankets over the chair backs. This den does not have walls and looks more like a gazebo shelter.
Drape a sheet over the top to make the roof and put some books on the chair seats to hold it in place. 
Put a blanket or duvet on the floor and arrange cushions or pillows around the sides.
You could decorate with string lights if it's indoors or for when it is dark outside. 
Whether indoors or out, den building has many benefits for children of all ages. It engages little brains getting them thinking creatively and solving problems. It encourages them to work together and it helps develop their communication skills. So when next you find you have nothing to do or the children are needing a distraction, take a walk to your living room, garden or woodland and build a den together. 
Read about other inspiring building ideas here.
I am a preschool and primary school teacher and mum to 3 children. I have been involved in education since 1997 and have trained in a variety of educational specialist areas. It is with this expertise that I write articles to help parents and educators provide quality learning experiences for the children in their care.