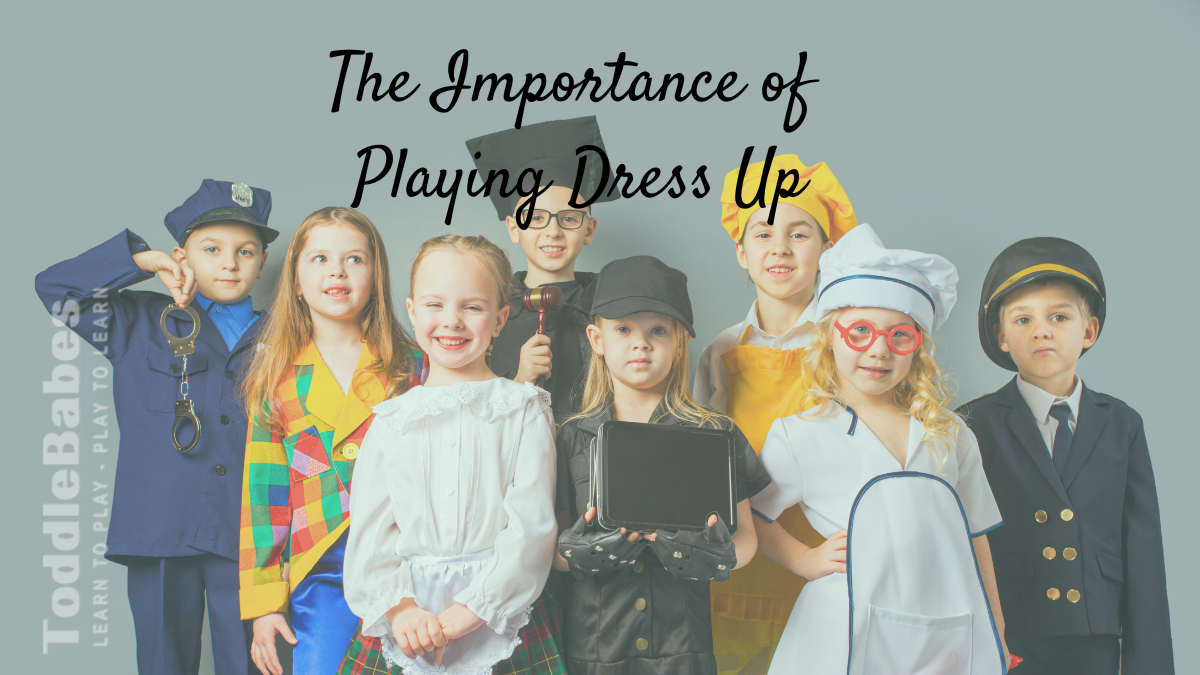 Why is dress-up play important for young children?
Dressing up in a variety of costumes is an important type of play that every child needs to have access to and experience. It is an important activity where they are using their limitless imaginations, building language and vocabulary skills and gaining confidence. Here are the benefits of playing with costumes.

Dressing up in a variety of costumes is more than just a fun activity for children. It holds immense value in their development, providing a platform for imaginative exploration and fostering a range of skills. This article highlights the numerous benefits that come with engaging in dress-up play. From enhancing language and vocabulary skills to fostering confidence and creativity, let's delve into the transformative power of costumes.
Stimulating Imagination and Creativity
When children put on costumes, their world transforms into a canvas of limitless possibilities. The act of assuming different roles and characters becomes a catalyst for their imaginations to soar. With each dress-up session, children embark on thrilling adventures, building imaginative worlds and crafting unique stories that unfold in their minds.
Dress-up play ignites the spark of creativity within children. It encourages them to think beyond the boundaries of reality and explore the realms of make-believe. Through the simple act of donning a costume, a child can become a courageous superhero, a whimsical fairy, or a daring explorer of uncharted territories. As they embody these various personas, their minds open up to new perspectives and ideas.
In the realm of dress-up play, children are the architects of their own narratives. They develop the ability to think outside the box, weaving intricate storylines and bringing their imagined scenarios to life. Each costume becomes a gateway to unexplored worlds, inviting children to create their own adventures and breathe life into their characters.
As children engage in dress-up play, they exercise their cognitive abilities. They develop problem-solving skills by navigating the challenges that arise within their play narratives. They must devise strategies, make decisions, and adapt to ever-changing circumstances, all while immersed in their imaginative realms.
Furthermore, dress-up play nurtures divergent thinking, fostering an environment where there are no right or wrong answers. Children learn to embrace their creativity, to explore unconventional ideas, and to break free from the constraints of traditional thinking. In this way, they cultivate a mindset that values innovation, originality, and unique perspectives.
The act of dressing up encourages children to explore different aspects of their personalities. It empowers them to step into the shoes of characters with diverse traits, abilities, and emotions. Through this process, they gain a deeper understanding of themselves and the world around them. They learn to empathize with others, as they encounter the joys, challenges, and vulnerabilities experienced by the characters they portray.
Dress-up play provides an avenue for self-expression, allowing children to experiment with different identities and explore their own individuality. It nurtures their confidence, as they discover the power to shape their own narratives and embody the roles they choose. By expressing themselves freely in the world of dress-up, children develop a sense of agency and self-assurance that extends beyond their imaginative play.
Dress-up play nurtures the imagination
By imagining themselves as someone different, a child develops their creativity. Pretending items like a piece of cardboard is a sword, or a scrap of cloth is a veil gives children a creative outlet and allows them to act out scenarios they may have seen and been interested in.
Dressing up can make children experience a different feeling of ability, conviction, and strength. For example, when children imagine themselves as powerful beings such as superheroes, they feel powerful. It allows them to feel in control. It gives them confidence and perhaps enables them to be more assertive than they would be if they were simply being themselves. This can be particularly beneficial to children who may feel like they have little or no control- that all control is held by the adults in their world.
Dress-up play is a gateway to a world of boundless imagination and creativity. It encourages children to dive into their own inner landscapes, invent stories, and embark on exciting adventures. Through dress-up play, children not only entertain themselves but also cultivate vital cognitive, emotional, and social skills that will serve them throughout their lives. So, let the costumes transport them to new horizons as their imaginations take flight, shaping a future where creativity knows no limits.
Language and Vocabulary Development
Dress-up play serves as a fertile ground for language enrichment, offering children a dynamic platform to enhance their communication skills. Through the immersive experience of pretend play, children naturally engage in verbal expression, interact with others, and practice various aspects of language development.
When children participate in dress-up play, they verbalize their thoughts, ideas, and emotions, giving voice to the characters they portray. As they assume different roles and immerse themselves in imaginative scenarios, they have the opportunity to articulate their inner worlds, expressing their desires, fears, and joys. This verbalization not only enhances their language skills but also strengthens their ability to self-reflect and communicate effectively.
Interacting with peers during dress-up play encourages children to engage in dialogue and cooperative communication. They negotiate roles, exchange ideas, and engage in collaborative problem-solving. Through this interaction, children practice turn-taking, active listening, and responding to the ideas of others. They learn the art of effective communication, honing their conversational skills and developing the ability to express themselves clearly and coherently.
One of the significant benefits of dress-up play is its capacity to expand children's vocabulary. As they explore different roles and scenarios, children encounter new words and concepts associated with the characters they embody. They learn to use context clues, inference, and imagination to understand and incorporate unfamiliar terms into their play narratives. Dress-up play creates a rich linguistic environment that exposes children to a wide range of vocabulary, helping them build a robust repertoire of words and expressions.
In addition to vocabulary expansion, dress-up play nurtures language fluency and flexibility. Children experiment with different speech patterns, tones, and registers to match the characters they portray. They practice adjusting their language use according to the roles they take on, whether it be adopting a formal tone for a royal character or using playful and whimsical language for a magical creature. This versatility in language expression strengthens their communication skills, enabling them to adapt to various social contexts.
Furthermore, dress-up play encourages children to engage in storytelling. As they create narratives around their characters, they structure their ideas, sequence events, and develop plotlines. Through this storytelling process, children develop narrative skills, learning to organize their thoughts coherently and construct stories with a clear beginning, middle, and end. They learn to use descriptive language, incorporate dialogue, and create engaging narratives that capture the attention of their peers.
Dress-up play encourages interaction and communication with others. It forces children to experiment with a new language. They have to think about and organise what, for example, a doctor would say, or how an astronaut would speak. This gives them opportunities to practice using words and phrases they wouldn't normally use. They test out words they may have heard but not fully understood and practice using tones relevant to different roles.
Now that we've spoken about the importance of dress-up, I'd like to share with you some tips for your at-home dress-up box and ideas for a school-themed dress-up day.
At home, we have a rather large dress-up box (actually 2) for dress-up days at school and for role-play at home. In it we have random fabric /old sheets and jewellery. There are hats and glasses, scarves and gloves. There are also character dress-up sets that we have purchased over the years. I try to keep the proper costumes in their storage bags so that we can simply pull them out as they are needed-but this doesn't always work, especially when the children pack the items away independently.
The two storage boxes are roughly divided by the type of items in them. One of the boxes is mostly accessories and random items, whilst the other is actual ready-to-wear costumes and a few hats or wigs. Every year, I go through the boxes and clear out the items that are too small for my 3 children. I also add items that I find that I think might be handy.
Things to include: wigs, glasses, gloves, scarves, headdresses, hats, fabric pieces, bags, shoes, ties, aprons, jewellery, eye patches, fake nails (like witches' fingertips) belts, skirts, tights, fake beards, wands, wings, sticks and ready to wear costumes.
Overall, dress-up play provides a unique and immersive setting for language and vocabulary development. It allows children to verbalize their thoughts, engage in cooperative communication, expand their vocabulary, and develop narrative skills. As they participate in this imaginative play, children gain confidence in expressing themselves, become effective communicators, and lay the foundation for strong language abilities that will serve them well in various aspects of their lives.
Building Social and Emotional Skills
Dress-up play provides a fertile ground for the development of essential social and emotional competencies in children. When children engage in this type of play with others, they embark on a journey of interpersonal growth, learning valuable skills that contribute to their overall well-being.
One of the key social skills that children cultivate through dress-up play is cooperation. As they participate in shared make-believe scenarios, children learn to work together, pooling their ideas, resources, and creativity. They navigate the complexities of collaborating with others, negotiating roles, and compromising to ensure a harmonious play experience. Dress-up play fosters a sense of teamwork and teaches children the value of cooperation in achieving common goals.
In the context of the dress-up play, negotiation skills become paramount. When children take on different roles and characters, they encounter situations that require them to communicate their needs, express their ideas, and find common ground with their playmates. They learn to navigate conflicts and differences of opinion, practising the art of compromise and finding mutually acceptable solutions. Dress-up play provides a safe space for children to refine their negotiation skills, equipping them with valuable tools for resolving conflicts in various social contexts.
Empathy is another crucial social and emotional skill that dress-up play helps develop. By assuming different roles and stepping into the shoes of diverse characters, children gain a deeper understanding of different perspectives and emotions. They learn to see the world from various vantage points, fostering empathy and compassion for others. As children engage in dress-up play, they experience firsthand the joys, challenges, and vulnerabilities of different characters, cultivating a sense of understanding and empathy that extends beyond the realms of play.
Dress-up play also promotes emotional intelligence, allowing children to explore and express a wide range of emotions. As they portray different characters, children have the opportunity to experience and embody various emotional states. They learn to recognize and regulate their own emotions, as well as understand and respond to the emotions of their playmates. Dress-up play facilitates discussions about feelings, encourages emotional expression, and creates a supportive environment for children to learn about emotional well-being.
Furthermore, dress-up play nurtures social skills such as active listening, turn-taking, and respecting others' ideas. Children learn to engage in meaningful conversations, attentively listening to their peers, and responding thoughtfully. They develop the ability to take turns, waiting patiently for their chance to contribute and appreciating the contributions of others. These social skills form the foundation for effective communication and positive social interactions beyond the realm of dress-up play.
By engaging in dress-up play with others, children also develop their social awareness. They become attuned to the needs and feelings of their playmates, recognizing when support or encouragement is needed. Dress-up play encourages children to be mindful of the impact of their actions on others, fostering a sense of responsibility and respect for the well-being of their peers.
In conclusion, dress-up play provides a rich environment for the development of crucial social and emotional skills in children. Through cooperation, negotiation, empathy, and emotional intelligence, children learn to navigate social interactions, build meaningful relationships, and contribute positively to their communities. Dress-up play serves as a valuable tool for nurturing social competence and emotional well-being, equipping children with the skills necessary to thrive in their interpersonal relationships throughout their lives.
Dress-up play strengthens relationships with other children and other adults
Role-playing, especially when it happens with other children, encourages taking turns, cooperating, and socialization.
Playing with costumes can be a lesson in empathy. It gives the child a safe space to "live" the life of someone else,  to put themselves in that person's shoes. How do they feel? How would that person behave in certain situations? Sometimes this can help children deal with emotions they are struggling with-they act out and talk about what has happened which can help them feel less scared or confused, enabling them to reach a better understanding of a situation.
Pretending to be someone else strengthens a vital life skill: the ability to understand other people's feelings, to have empathy. It will help them deal with people in school, at home and at their adult jobs.
Confidence and Self-Expression
Dress-up play serves as a transformative avenue for children to explore their identities, experiment with different personas, and nurture a deep sense of self-confidence. Within the realm of costume play, children are granted the freedom to express themselves authentically and discover new facets of their personalities.
Costumes provide a gateway for children to step into the shoes of diverse characters, whether fictional or inspired by real-life figures. By donning these different roles, children are able to tap into their imagination and unleash their creativity. They have the opportunity to embody qualities and traits that they may not typically exhibit in their everyday lives. Through this process, children gain a newfound sense of empowerment, realizing that they have the capacity to explore and embrace a range of identities.
When engaging in costume play, children are encouraged to take risks, experiment with their appearance, and showcase their unique preferences. They can delve into their imagination and construct their own narratives, allowing their creativity to shine. This creative exploration fosters a sense of ownership over their self-expression, cultivating the belief that their ideas and choices are valid and worthy of recognition.
As children try on different roles and experiment with various costumes, they develop a deeper understanding of themselves and the world around them. They gain insights into their preferences, interests, and passions. Dress-up play becomes a tool for self-discovery, enabling children to explore and articulate their own unique identities. This process of self-exploration nurtures self-assurance, as children embrace the notion that their individuality is something to be celebrated.
Costume play provides a safe space for children to build a positive self-image. By embodying characters and expressing themselves through costumes, children receive affirmation and encouragement from their peers and caregivers. This positive reinforcement bolsters their self-esteem, reinforcing the belief that they are capable, valued, and accepted for who they are.
Dress-up play also encourages children to take on challenges and step outside of their comfort zones. As they engage in imaginative scenarios and interact with others, they develop social skills and assertiveness. They learn to communicate their ideas, negotiate roles, and express themselves confidently. This newfound confidence extends beyond the realms of dress-up play and permeates other aspects of their lives, empowering them to face new situations and pursue their aspirations with courage.
Costume play nurtures a sense of acceptance and tolerance in children. By exploring different roles and identities, they gain an appreciation for diversity and learn to celebrate the uniqueness of others. They develop empathy and understanding as they encounter different perspectives and experiences. This empathy translates into their interactions with others, fostering an inclusive mindset and a willingness to embrace the individuality of those around them.
Dress-up play lets them explore themselves and the roles they identify with
When children pretend to be other people, they are also experimenting with new ideas and behaviours.   They have to put themselves into their character's place and think about what those characters might say, do or how they'd behave. They are in control of decisions about what they like and what they don't. In some role-playing situations, children pretend to do household chores, like vacuuming, cooking or baking, and taking care of pets or younger children (like babies). They also try out jobs, learning more about them along the way.
Dress-up play provides a powerful platform for children to express themselves, build confidence, and cultivate a positive self-image. Through the exploration of different identities and the freedom to embrace their uniqueness, children gain a deeper understanding of themselves, develop self-assurance, and celebrate their individuality. The transformative nature of costume play empowers children to navigate the world with confidence and authenticity, fostering a strong sense of self-worth that will positively impact their personal and social development.
Problem-Solving and Critical Thinking
Dress-up play serves as an engaging platform for children to exercise their problem-solving and critical-thinking skills. As they immerse themselves in imaginative scenarios and encounter various challenges, children are presented with opportunities to think creatively, adapt, and find solutions.
One aspect of dress-up play that fosters problem-solving skills is the creation of props and accessories. Children often engage in the process of designing and crafting items that complement their costumes and enhance their play experience. They may repurpose everyday objects or use arts and crafts materials to build their props. This hands-on activity requires them to think critically, assess their available resources, and find innovative ways to transform materials into functional items. Through this process, children develop resourcefulness, adaptability, and the ability to think outside the box.
Within the play narratives themselves, children encounter challenges and obstacles that require problem-solving skills. Whether it's a quest to rescue a captured friend or a mission to solve a mystery, children must employ critical thinking to devise strategies and overcome hurdles. They engage in imaginative problem-solving, using their creativity and logic to find solutions within the context of their play scenarios. This process encourages children to think critically, consider multiple perspectives, and evaluate the consequences of their decisions.
Dress-up play also promotes adaptability and flexibility in thinking. As children assume different roles and encounter unexpected plot twists, they learn to adjust their strategies and adapt to changing circumstances. They develop the ability to think on their feet, make quick decisions, and revise their plans as needed. This adaptability not only strengthens their problem-solving skills but also equips them with valuable life skills to navigate unforeseen challenges in the future.
Dress-up play encourages children to think critically about character motivations, emotions, and relationships. They analyze the behaviors and traits of the characters they portray, developing a deeper understanding of complex human experiences. This analysis promotes empathy, perspective-taking, and the ability to consider multiple viewpoints. Children learn to think critically about the motives and actions of characters, enhancing their capacity for empathy and emotional intelligence.
In addition to problem-solving and critical thinking, dress-up play nurtures collaboration and teamwork. Children often engage in cooperative play, where they work together with peers to navigate challenges and achieve common goals. This collaborative aspect of dress-up play promotes communication, active listening, and the ability to collaborate effectively. Children learn to share ideas, compromise, and build upon each other's contributions, fostering a sense of collective problem-solving.
As children engage in dress-up play, they develop a range of cognitive skills that extend beyond problem-solving and critical thinking. They enhance their imagination, creativity, and cognitive flexibility. They exercise their memory and storytelling abilities as they construct intricate narratives and recall details from previous play sessions. Dress-up play provides a holistic cognitive experience, stimulating various aspects of cognitive development in a fun and immersive way.
Dress-up play offers a dynamic context for children to develop problem-solving and critical-thinking skills. Through the creation of props, the navigation of play scenarios, and the analysis of characters and relationships, children learn to think creatively, adapt, and find solutions. Dress-up play nurtures resourcefulness, cognitive flexibility, and the ability to think critically about complex situations. As children engage in this imaginative play, they build a foundation of cognitive skills that will benefit them in various aspects of their lives.
Cultural Awareness and Understanding
Dress-up play provides children with a unique opportunity to explore and appreciate the rich diversity of cultures around the world. By dressing up in costumes representing various cultures, children gain exposure to different traditions, customs, and perspectives, fostering cultural awareness and understanding.
When children engage in dress-up play featuring costumes from different cultures, they embark on a journey of exploration and discovery. They learn about the unique clothing styles, accessories, and symbols associated with different cultures. Through this hands-on experience, children develop a visual and tactile understanding of cultural artefacts, deepening their appreciation for the intricacies of diverse traditions.
As children embody characters from different cultures, they become immersed in the stories, values, and ways of life associated with those cultures. They gain insight into the history, geography, and social dynamics that shape different communities. This exposure broadens their worldview, enabling them to move beyond stereotypes and develop a nuanced understanding of diverse cultures.
Dress-up play allows children to break down barriers and challenge preconceived notions. By assuming different cultural roles, they experience a sense of empathy and perspective-taking, stepping into the shoes of individuals from different backgrounds. This firsthand experience promotes empathy, respect, and a genuine curiosity about the world and its diverse inhabitants.
Engaging in dress-up play featuring costumes from different cultures also encourages children to engage in conversations about cultural differences and similarities. They have the opportunity to learn from their peers, caregivers, or educators about the cultural significance of specific garments, traditions, or symbols. These conversations foster dialogue, promote understanding, and provide a platform for the exchange of ideas and knowledge.
Through dress-up play, children develop an appreciation for cultural diversity and learn to celebrate differences. They begin to understand that cultural diversity is a source of strength and enrichment in society. This understanding paves the way for respect, tolerance, and inclusivity in their interactions with people from different backgrounds.
Dress-up play serves as a catalyst for further exploration of different cultures. Children may be inspired to seek out books, films, or educational resources that delve deeper into the cultures they have encountered through dress-up play. This curiosity-driven learning expands their knowledge, encourages a lifelong appreciation for cultural diversity, and nurtures a global perspective.
As children engage in dress-up play featuring costumes from different cultures, they become ambassadors of cultural understanding. They not only gain insights into their own identities but also develop a sense of responsibility to respect and appreciate the identities of others. Dress-up play becomes a powerful tool for fostering a sense of unity, acceptance, and mutual respect among children, setting the stage for a more inclusive and harmonious society.
Dress-up play serves as a gateway to cultural awareness and understanding. By dressing up in costumes representing diverse cultures, children gain exposure to different traditions, customs, and perspectives. They develop empathy, break down stereotypes, and foster respect for cultural diversity. Dress-up play becomes a catalyst for dialogue, exploration, and celebration of the rich tapestry of the world, nurturing a generation of global citizens who value and appreciate the beauty of cultural differences.
Dressing up ideas for School themed dress-up days
School dress-up days can be a challenge. Mainly when the theme is limited to Fairy tales.
Fairy tale dress-up ideas for boys can be a real conundrum. This week my son came home with a letter detailing what they would be learning this term in class. Their literacy topic is Fairy Tales and as part of this topic, they have been asked to dress as a fairy tale character for a special day at school.
As far as Fairy Tale dress-up goes,  immediately loads of princesses popped into my head, but unsurprisingly not so many male characters came to mind.  All I could think of were a whole lot of Princes, dwarfs, and the Beast from Beauty and the Beast and none of those inspired my boy.
Now before you get all gender-stereotype-correct on me, my son does not want to dress as one of the traditional girl characters. If your girl wants to dress up as one of these from our list, however, she should definitely go for it and likewise, if your little guy wants to be a princess or another girl character then go ahead!
After coming up a little shy on ideas, I went to our bookcase to search through our Fairy tale books. I googled, searched the internet, and checked out the local library for male or animal fairy tale characters for him to dress up as. There were more than I thought but many were from stories we were not familiar with. We put together a list of the ones we found to share with you and included links to images to help you get an idea of how to dress for each.
Here are the Male or Animal characters we found
Luckily my boy decided he wants to be an Elf from The Elves and the Shoemaker story. I say luckily because we have elf outfits in our dress-up box from Christmas! We also don't own a copy of the story so I found a book cover in google images and printed it out for him to take with him.
Here's a link to a list containing more obscure fairy tales that you may like to try.
Hopefully, this has inspired you and helped you find some ideas for your child to try out on their next dress-up day. For more dress-up ideas, particularly for World Book Day, click here. 
Dress-up play holds significant benefits for children's holistic development. Beyond its entertainment value, this form of play nurtures imagination, language skills, confidence, and social competence. Encouraging children to engage in dress-up play allows them to explore their creativity, embrace different roles, and develop essential life skills that will serve them well in their future endeavours. So, let the costumes come alive and watch the magic unfold as children embark on extraordinary journeys of self-discovery and growth.
I am a preschool and primary school teacher and mum to 3 children. I have been involved in education since 1997 and have trained in a variety of educational specialist areas. It is with this expertise that I write articles to help parents and educators provide quality learning experiences for the children in their care.