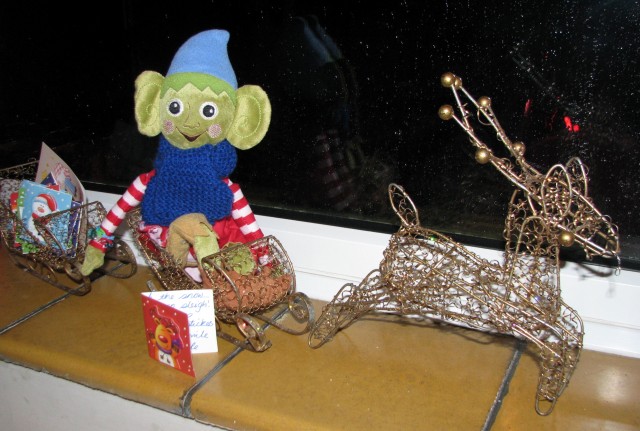 The Adventures of Jingle , Our Christmas Elf
Day 12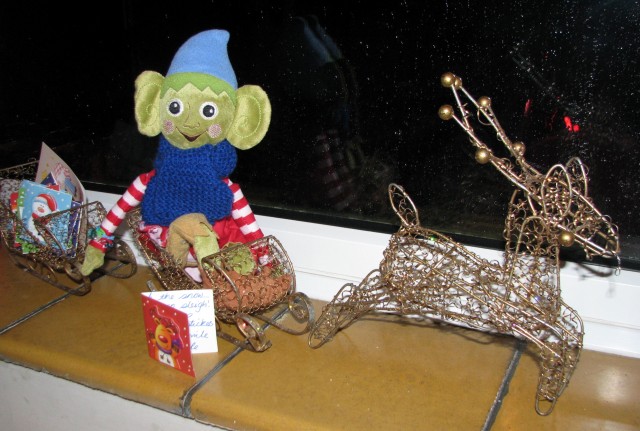 Today Jingle was found sitting on the windowsill in the kitchen inside a sleigh ornament. He had put Christmas hat chair covers onto the 5 chairs and left 3 super shiny Christmas party hats and a pack of Christmas stickers on the table. He invited us to decorate and personalise our party hats using the stickers.
It was a lovely start to the morning and the children even forgot to ask if they could have the telly on (they usually ask every morning for the telly) which was super! My middle boy really loved this activity and totally covered his entire hat. What is it with stickers anyway…I'm yet to meet a child who does not like them!
Our Christmas Hat Prop box
We have a small box of Christmas dress up accessories which I add to most years. It includes reindeer antlers, Rudolph noses, Santa beards, Elf hats , many many Father Christmas hats, Christmas pudding masks and other masks. We use these for some fun and silly photo shoots during December and I think these will make a nice addition to that collection. The children have already said they would like ton wear them at the Christmas lunch table instead of the paper ones that come from the crackers as those usually are too big for children and keep falling down. We also have a Christmas dress up box which has santa suits and elf items. We use the dress up box with the prop box, but more about that in another post…
Why not create your own Christmas Props box? …It is a really fun and funny way to spend a few minutes messing about together.
Related articles across the web
I am a preschool and primary school teacher and mum to 3 children. I have been involved in education since 1997 and have trained in a variety of educational specialist areas. It is with this expertise that I write articles to help parents and educators provide quality learning experiences for the children in their care.