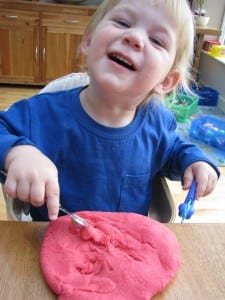 Age group: 6months+
What you need:
2 cups of plain flour
4 tablespoons of 'cream of tartar'
2 tablespoons of cooking oil
1 cup of salt
2 cups of boiling water
food colouring of your choice
What to do:
Just put it all in a bowl and mix. No cooking needed!
Stir and knead it until it comes together and is smooth. Store in an airtight container and it will last for weeks! Remember to supervise your smaller children who might like to "taste" it.
Tips:
Make it more interesting and add glitter for a pretty sparkle.
Use plastic"tools" such as spoons, cups, animals, rollers and store-bought play dough items.
Theme play: provide a theme through the items you use. This week, for example, do The Sea and use plastic sea creatures, shells and pebbles. Next time do The Farm etc. Just use your imagination!
I am a preschool and primary school teacher and mum to 3 children. I have been involved in education since 1997 and have trained in a variety of educational specialist areas. It is with this expertise that I write articles to help parents and educators provide quality learning experiences for the children in their care.