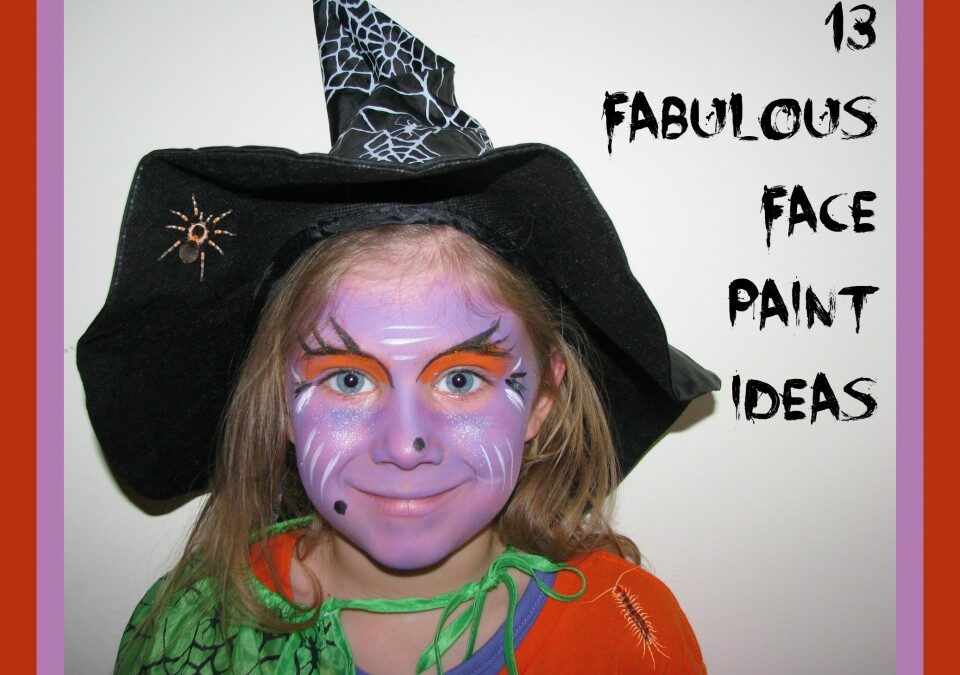 13 Fantastic Face Paint ideas Gallery
Does your child like having their face painted? Mine do. So much so that whenever we go to any festivals and fairs we end up standing for ages in the queue waiting for our turn to get painted. This annoyed me, as did the price tag at times that I decided to invest in a few packs of good quality face paint to keep at home. Now we paint our faces when the mood takes us and I often paint them before we leave the house heading to festival. That means no more queuing and no extra cash spent on something we will wash off in a few hours time. I have to say, I do make an exception for artists that do a really outstanding job!
Face paint is a super way to enhance your child's role play and therefore boosts imagination. We use face paint as an extension to the dress up box at home and I will often do a quick face paint on a weekend just because we can! It is also well worth getting a set of paints for when you host parties at home and if you have not employed a party entertainer. Most children love having their faces painted and if not, you can always paint a "tattoo" on their arm or hand instead.
Paints can sometimes get a little pricey or you realise you don't have the colour you fancy using at the time, especially if you are painting a few children or painting often. Also, Face paint is fun – but is it safe? Don't take the risk with questionable ingredients in bought paints. Learn how to make your own homemade paints with the recipes I've included below.
Face Paint Recipe
You will make many colours so have a few small mixing bowls ready and assorted food colouring.
Here's the mix which is enough for one colour:
1 teaspoon cornstarch
½ teaspoon water
½ teaspoon cold cream or aqueous cream
2 drops food colouring or pigment powder
Combine all ingredients in a small bowl.
Mix well.
Paint face as desired.
Face Paint 2
1 Tbsp. cold cream
2 Tbsp. cornstarch
1 Tbsp. water
Food colouring or pigment powders
Mix cream, cornstarch, and water until smooth.
Add food colouring, one drop at a time desired colour is achieved.
Store in air-tight containers.
Grease Paint Recipe
Grease paint can be a great way to add full coverage and it is easy to blend and match to your costume. Grease makeup takes more time to apply and to prepare than a water-soluble face paint, but it's advantage is that it also lasts much longer. If your child is older and will sit still longer , grease paint is worth doing because it won't smear or run when they get hot and sweaty. Grease makeup needs to be 'set' after it is applied. You can use a professional setting powder, or baby/talcum powder.
2 tsp. white shortening
5 tsp. cornstarch
1 tsp. white flour
2 or 3 drops glycerin
Food colouring , pigment powders or cocoa for brown
Mix in given order.
Please remember that grease makeup will stain clothes, so put on an apron or shirt to protect your clothing.
Body Paint Recipe
Baby shampoo
Powdered tempera paints
Add tempera paint to shampoo until desired colour is reached.
Face and Body Paint
1/2 cup baby lotion
1/2 tsp. liquid soap, like shower soap/gel or baby shampoo (The original recipe suggested dish liquid but you may prefer to use a liquid soap used for bathing)
Powdered tempera paints* see note below
Mix all ingredients and store in air-tight jars. (Baby food jars work well.)
Use paint brush to paint designs on skin.
Paint will wash off easily because the soap has been added.
*EDIT: A few people have contacted me about using tempera paints in body paint. This is what tempera paints are tested for:
Powder Tempera does not contain the following common allergens:
Does not contain Latex
Does not contain Dairy & Casein
Does not contain Egg
Does not contain Gluten
Does not contain Peanut & Tree Nut
Does not contain Soy
Some tempera colours are more difficult to get off than others, so do a test patch first!
Obviously, you are not going to use something that is listed as toxic in anyway. Read the labels and use your common sense. Most paints for children are thoroughly tested as the manufacturers know that they get it all over themselves. Think about it. At school, kids paint hands for art printing, they do finger painting, they paint feet for footprints…
If your child has a sensitive skin, you wouldn't be putting anything on it.
These recipes were contributed by body painters working in theatre or for performance art groups. If you are worried about any of the ingredients, then don't use the recipe.
Over the years I have painted little faces into tigers, mermaids, rabbits, monsters, vampires, zombies, mummies, and dogs to name a few. Here are some of the faces that I have done ( I am by no means a pro at this) on my children to give you some face painting ideas for your dress up and costume parties. You will also find inspiration for some scary Halloween faces.
Finally , let's talk about how to remove the paints afterwards.
You can apply cold cream to your face and wipe away the paint with a cloth, cotton wool pads, tissues or paper towels. You can also use baby wipes, vegetable/coconut oil or a make-up remover cream, lotion or wipes. To finish, wash your face with a mild shampoo, like no tears baby shampoo. You might like to put a light moisturiser on when you're done.
I hope you've enjoyed the recipes and feel inspired to enhance your child's role play experience. Your efforts don't have to be perfect. Your little one will love it anyway!
I am a preschool and primary school teacher and mum to 3 children. I have been involved in education since 1997 and have trained in a variety of educational specialist areas. It is with this expertise that I write articles to help parents and educators provide quality learning experiences for the children in their care.