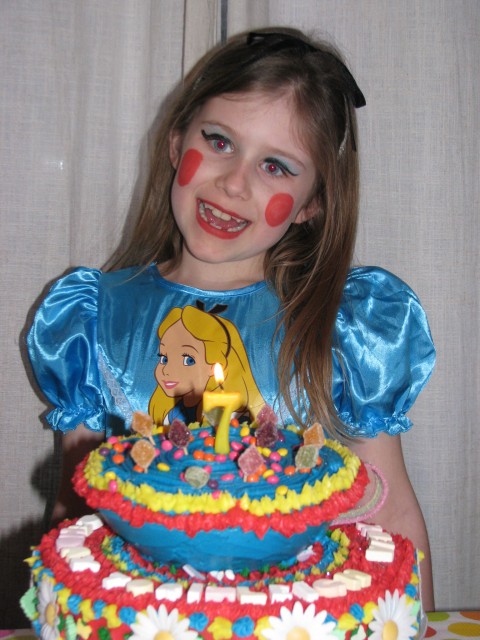 A great theme! When my daughter turned 7, she wanted a Mad Hatter's Tea Party or Alice in Wonderland party. She had recently watched the film and read the book and I suggested it would be fun to have a tea party.
The Invitation
I downloaded a picture and altered it to include words detailing the party particulars. It was printed A4 size and rolled up like a scroll and fastened with a fabric ribbon. It invited the guests to wear a Mad Hat. As you'll see later, many also dressed up as book characters too.
Welcome to the party
The front of the house had a welcome sign and a paper spring floral wreath. I also had made lots of cardboard tea cups and teapots onto which I had written popular and well known quotes from the book in coloured pens. These were randomly stuck around the entrance hall and living room.
We have a very long driveway and some of the guests had never been to our home before (and we had only been living here for 4 months at the time of the party so please ignore the horrid wallpaper and carpets! YIKES) so we placed a sign (my daughter decorated it herself) at the bottom of the drive to make it easier for guests to find us.
The Decorations
The dining room was decorated with patterned fabric bunting and cardboard bunting featuring cupcakes, tea pots and tea cups. The table was covered with a spotty and stripy cloth. A large clear and floral helium balloon floated above the food table. The living room was decorated with colourful balloons and quotes from the book on tea pot and tea cup shaped cards. I also cut out large key shapes and stuck them around the room.
Dress up and guests
Adults were invited to dress up. I wore a Mad Hat, my husband was dressed as the Mad Hatter and my aunt was a very fabulous Queen of Hearts. She went around calling out "Off with their heads!" at random intervals throughout the party. The children loved it.
My husband really enjoyed his role as the Mad Hatter!
My two boys dressed as a knight (inspired by the playing cards) and the White Rabbit- I reused this cute outfit for Easter dress up which was great- while the birthday girl wore her Alice dress. I altered a plain black head band by adding a bow. We found that a black ribbon did not stay in her hair very well and this worked a treat. She wore plain white tights and her black school plimsolls to complete the look.
A super hat by one of the guests. I really wish I had taken a hats picture as some of the children really were quite creative with their Mad Hats.
Games and Activities
We played toss the rabbit in the bucket in teams. I placed circular foam place mats on the floor and the teams lined up behind them. They had to stand on the spot to throw the rabbit toys into the buckets.
Then we had a race where the children put a soft toy rabbit between their knees and hopped to the bucket, around it and back again before the next team member had their turn; like a relay race.
During the inside games, The Mad Hatter hid a brown soft toy Rabbit (The March Hare) somewhere in the garden. Fortunately it was a dry day, albeit it very cold! The children followed him around the garden trying to spot the March Hare. Obviously he knew where it was hidden so was able to lead them all over the grounds before actually getting to the spot where he had hidden it! As they walked, we called out "I'm late, I'm late for a very important date!"
After the March Hare had been found, the children did a Pull pinata which was hanging from a low Magnolia tree in the back garden. It was not really successful as the first ribbon pulled resulted in the sweets pouring out meaning the suspense was ruined! I got them all to grab a ribbon and pull on the count of three. This meant that at least everyone got their go…kind of…the children enjoyed collecting up the spoils anyway.
To thaw out, we went back indoors where I had set up a face painting station in the kitchen and the children took turns coming to be painted either to match the character they were dressed up as or as another character from the book. I painted a few queens, rabbits and Alices and a Cheshire cat or two. What do you think of my hat!? It's a velvety blue hat that hubby got from drinking a certain number of Guinness at the pub one St. Patrick's day which I modified by adding a fluorescent tutu which was left over from my daughter's Fairy themed 4th birthday party!
Party Food and Drinks
Using self adhesive coloured paper, I made "Drink Me" labels to stick onto regular fruit juice cartons.
I love to bake and so when I saw a cookie cutter that cut scalloped rectangular shapes with a stamp that made the words "Eat Me", I had to have it. After all, what Alice in Wonderland party is complete without the Drink Me and Eat Me goodies like in the story? These are simple sugar cookies and work really well for a quick and easy cookie when you want to make specific shapes.
As you can see, the other food I provided included sausage rolls, sandwiches, crackers, fruit bars, fruit, crisps, chocolate bars, cheese, and a variety of my daughter's favourite sweets. All of this was eaten on hot pink paper plates with teacup motifs on them.
The Cake
I made a tea cup shaped colourful cake with a numbered candle on top. The cake was made from a chocolate circular cake as the saucer and a dome shaped cake, which I turned over to create a cup shape. Her name is also spelled out in hard candy letters around the saucer and it reads: A very happy unbirthday to ….(her name). Because there are such wonderful flowers and whimsical garden scenes in the film, I used lots of flowers and leaves to decorate it.
After the party was over, my 7 year old chose 3 friends to sleep over. I served them Pizza and popcorn at a carpet picnic while they watched the original Alice in Wonderland movie, the animated one. When they woke the next day, they had a scrumptious pancake breakfast. This was her face in the morning! Success!
Have you had a Mad Hatter or Alice in Wonderland Party? I'd love to hear about it or to know if you found any ideas from our party useful.
I am a preschool and primary school teacher and mum to 3 children. I have been involved in education since 1997 and have trained in a variety of educational specialist areas. It is with this expertise that I write articles to help parents and educators provide quality learning experiences for the children in their care.