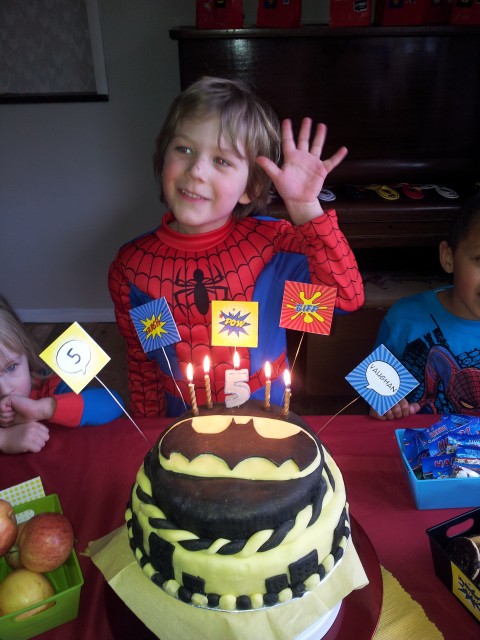 What little guy doesn't enjoy playing dress up as a superhero? When my son was almost 5, he informed me that he wanted a superhero dress up party for his birthday. I loved the idea and got quite excited about preparing the activities and games as well as the party props.
Invitation and Decorations
We placed this signboard at the end of the driveway to show our superheros where to go for their Superhero Training.
I purchased a rather lovely superhero pack. It has printable and customisable invitations and other items. I have never purchased a party decoration kit before and was really pleased with what I got in my instant download! This is the invitation in the pack which I customised to fit our details and information.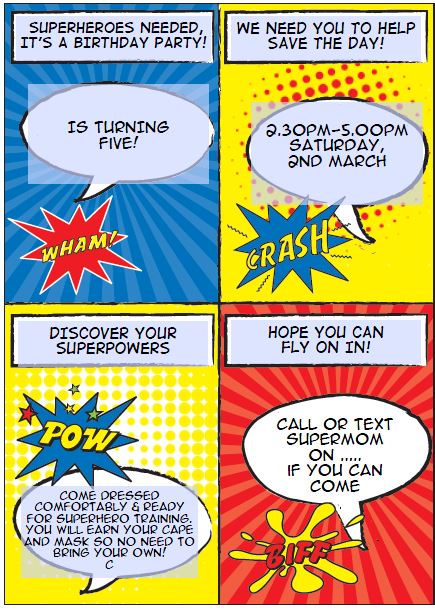 The superhero party pack included:
Invitation 5×7",2" Party Circles (Cupcake Toppers), Cupcake Wrapper, Mini Name Tags 1"x4", Address Labels 1"x4", Food Tent Labels, Party Tags (2 pages, Water Bottle Labels, Mini Choc Wrapper, Paper Cones, Table Signs, Pennant Banner, Game & Welcome Signs, Colouring-in Activity, Building Silhouette Table Decoration, 4" & 6.5" Cello Bag Toppers, Thank You Hang Tags, Thank You Note Cards 4"x6", Patterned Papers
You can see how I used the other items mentioned above in the post about Superhero Food and Drinks
I printed out all that I wanted to use and placed them in the party area. I also found some superhero badges/emblems free on the web and printed those. I covered a large part of our living room wall with these symbols and words like zap, biff and pow. They can be seen in some of the pictures of the children's games.
Games and Activities
As part of attending Superhero Academy, the children needed to complete a series of tasks and tests. These tasks were testing their speed, agility, protection skills, rescue skills, strength, ability to apprehend bad guys and stealth.
I used masking tape to create a giant web on the carpet. This was used as the basis for all sorts of games.
KRYPTONITE BALL TOSS: Speed and agility I made a ball of glow bracelets and we pretended that it was Krytonite and they had to pass it as quickly as possible around the circle while music played. If they had it when the music stopped then they were out for that round.
PROTECT AND SERVE: Protection The children had to make a shield to use to protect themselves and the people/pets they rescue as superheros. I cut large circles from plastic board, spray painted them silver and attached cable ties through the centre as handles. The children used glittery self adhesive star shaped stickers to decorate their shield.
TOILET PAPER TIE UP: Apprehend My brother arrived dressed as a "Bad Guy" and the children had the joy of wrapping him up in toilet paper! They loved this! When they were done, he broke out of the paper and chased them around .
SUPER STRENGTH: Strength The children took turns showing me their super strength. They had to lift the 6lb ball ( my very underused exercise ball) above their heads.
WEB TANGLE: Protect and apprehend I volunteered my daughter and the birthday boy to be caught in the web. I gave the party guests balls of wool (yarn) and they pretended they were Spiderman catching the naughty people in a web…It was great fun as they my two were soon covered in wool and unable to move. (I had to snip them out with scissors)
WEB TOSS: Agility and accuracy You can notice that there are names on the web written in marker pen. The children had taken turns throwing plastic spiders at the target (the centre of the web). I wrote their name where it landed so that we could reuse the plastic spiders for everyone and to keep track of how close they got to the centre.
I
ZOOM/ FLYING CHALLENGE: Speed We went into the garden to see how fast we could "fly" around the tree and back to the house. Unfortunately, my camera ran out of battery so I have no pics! I used a stopwatch to time them and ranked them according to the top 3 fastest fliers.
RESCUE MISSION: Agility and Saving I placed a toy in the centre of the web and the children had to navigate to the web, retrieve the toy and bring it back to the starting point without falling off the web. I made this trickier for the older children in attendance by having another child chase them along the web lines so that had to hurry.
GRADUATION FROM THE SUPERHERO ACADEMY
After all the tests and challenges were done, they had earned their capes and masks. I had made the capes from flat bedsheets and felt and the masks too I had purchased and decorated with glitter glue. (Step by step in a separate post). They put on their capes and masks and I gave them each a certificate.
I got the template from www.twinkl.co.uk and modified it as you can see by adding text. I printed it on card to make it more official.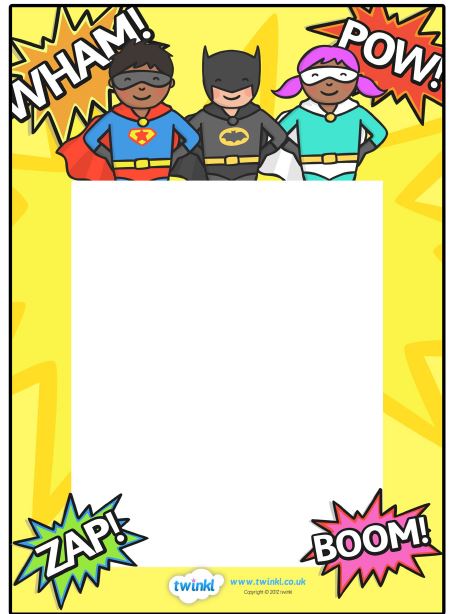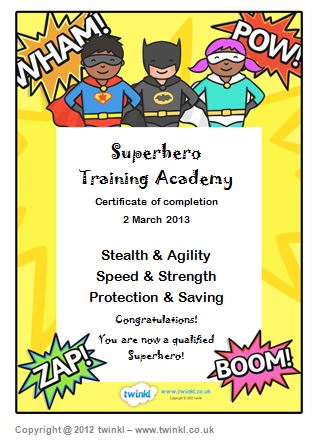 It was a blast and a super (no pun intended) theme for a birthday party. I do hope I've given you some ideas for your Super Superhero Party. Please leave a comment if you found this post useful. I'd love to hear from you!
I am a preschool and primary school teacher and mum to 3 children. I have been involved in education since 1997 and have trained in a variety of educational specialist areas. It is with this expertise that I write articles to help parents and educators provide quality learning experiences for the children in their care.