Make your own Wreath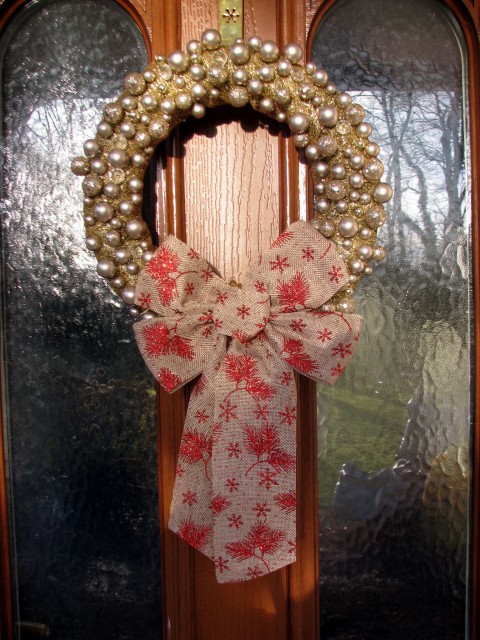 Get a circular wreath shape. There are ones made from florists foam, willow sticks, polystyrene, and plastic. All you need to make sure of is that it can have wires poked into it. I have also used old tights-the leg bits-filled with empty carrier bags before and shaped into a circle. Great for decorating if you are not going to need to poke anything into it for attaching . It works great for wrapping ribbon or artificial lengths of tinsel or foliage around. It also means you can make a really big wreath and it costs next to nothing to create. Back to this one though;
Using some fabric in the colour you prefer . I've used a roll of gold net fabric that I cut into ribbon about a third of the roll width, to get a easier width to wrap around the wreath shape. You can use ready bought ribbon instead.
Once the entire shape is covered in fabric, put it aside and prepare your balls. I cheated and used a ready bought gold coloured swag. The ball shapes are ready wired that way and it saves me time just to pull the entire swag apart into individual balls. It also means that I get a variety of ball sizes and shades of gold. if you don't have access to a ready made swag, then buy the really cheap baubles from pound shops in the colour(s) you want and a pack of florists wire (or similar sort of wire). You can then thread the wire through the hooks at the top of each bauble and poke the other end of the wire into the wreath shape.
When you have a large pile of ready wired balls, start poking them randomly into the covered shape.  Keep filling the spaces until you are satisfied with the overall look. I really was random in the placement of mine and had my 4year old boy helping me.
It should look like this when you are done poking all the balls into the shape.
If you are adding a bow, leave the area of the wreath where you are wanting to attach the bow shape clear (no balls)  so that it is easier to attach it.
I used a hessian fabric ribbon which is printed with red sparkly Christmas pattern. Of course you can make your bow out of any ribbon you prefer. I find a thicker, stiffer fabric holds the bow shape better then satiny soft ribbon.
This entire project took me around 90 minutes-with my little "helper" so is a really quick way to make an effective and pretty decoration. This is the first time I have made one without foliage and am excited to know that if I pack it away carefully at the end of the year, I will be able to reuse it next time!
Why not try mixing colours or make one in silver with a blue bow? I'd love to see what you've created!