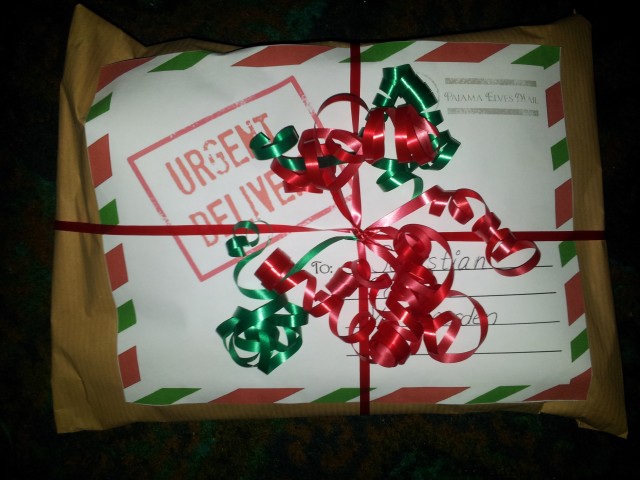 Well, Christmas eve arrived and was the usual flurry of activity. We attended the Crib service at church and then had our annual Christmas Eve concert at home with friends and family.
A visit from the Pajama Elves
When that had finished, I asked the children if they had checked to see if the Pajama Elves had been (we had read the storybook and were anticipating a visit!) They ran to the front door and checked but there were no parcels there. I reminded them that sometimes the elves leave the parcel on the end of the bed.
They thundered up the stairs and I heard squeals of excitement as they discovered these pretty parcels on their beds.
They brought them downstairs and ripped into them. Inside was a pair of Pajamas each. They were so excited. Pajamas on Christmas eve from the Pajama Elves meant that they are on the good list!
Here they are all in their new 'onesie' pajamas, about to go to bed on Christmas Eve. Let's hope the sleepy magic sewn into them works!
Click on this link if you don't know the story of the Pajama Elves!
I am a preschool and primary school teacher and mum to 3 children. I have been involved in education since 1997 and have trained in a variety of educational specialist areas. It is with this expertise that I write articles to help parents and educators provide quality learning experiences for the children in their care.