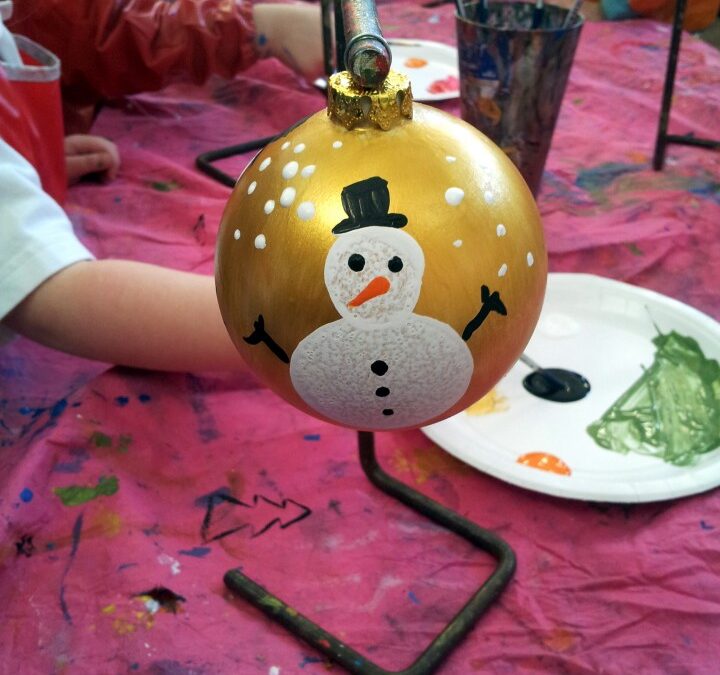 Each of my children has their own collection of decorations for the Christmas tree. Every year they are allowed to choose a new one from the shops to add to their collection. They get to hang their own decorations on the tree and one day, when they leave our family home and move into their own homes, they will have a box full of decorations from their childhood to put onto their first tree. This year I decided that the children need to make their own decoration for the Christmas tree. I signed my boys up for a bauble painting workshop.
My boys both participated in a bauble painting workshop earlier this month. Each child was given a delicate (and highly breakable) white plain bauble to paint. A metal stand was provided onto which the bauble was hooked to help children gain access to all sides of the bauble.
Both my boys opted for gold paint. It was a fast drying acrylic paint. Using long smooth stroked form top to bottom of the bauble, the first layer of paint was completed. Once it had dried sufficiently, we used circular shaped sponge brushes to make the body and head of the snowman.
Next we dipped the back of a thin regular paintbrush into black paint and made the eyes, buttons and stick arms. Still using the back of hte brush, we dipped into orange for the carrot nose. Finally, we dipped into white and made snow falling all around.
We did two snowmen and then my 4 year old decided he wanted to paint a gift-box in the remaining space. He did this free hand with a very thin brush. You can't really see it in the pictures.
The whole activity only took 45 minutes and the final product is beautiful. Worthy of treasuring and to be placed on our tree year after year.
I am a preschool and primary school teacher and mum to 3 children. I have been involved in education since 1997 and have trained in a variety of educational specialist areas. It is with this expertise that I write articles to help parents and educators provide quality learning experiences for the children in their care.